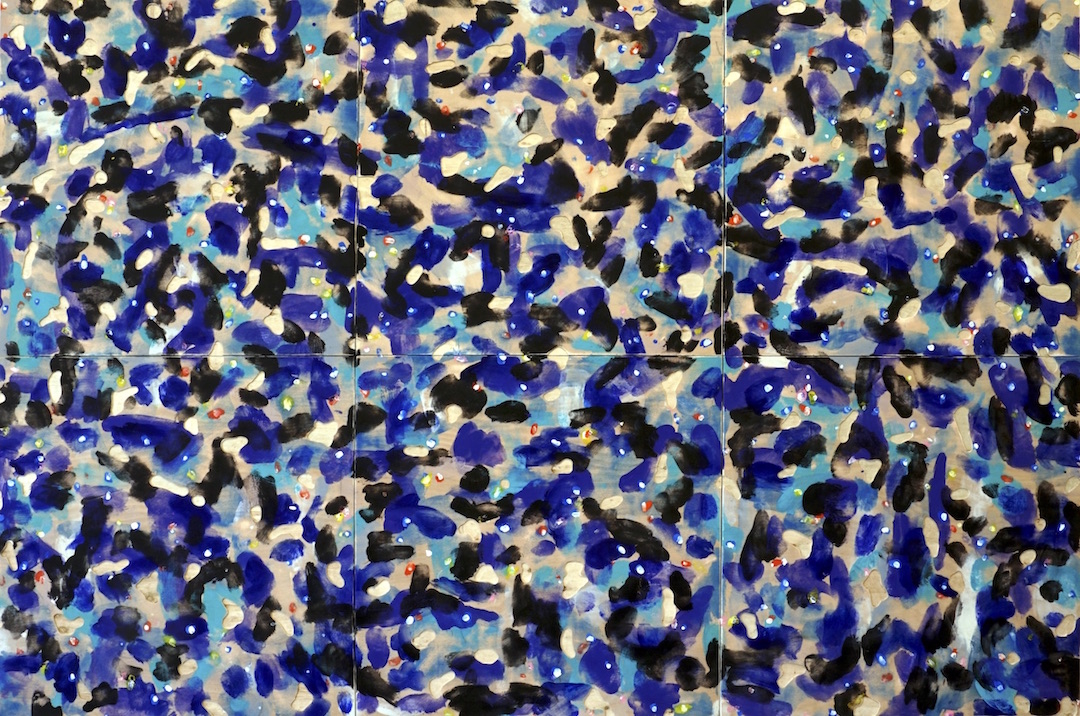 John Torreano
Above Below and Below Below
John Torreano is a painter. He's many other things of course, including an academic, a teacher, a stand-up comedian, an artist philosopher, a bicycle commuter, and an institution- builder. But he approaches all of these endeavors with the eye and the temperament of a painter. His sculptural works feel like three-dimensional paintings and his photographs read like impressionistic landscapes. This painterly approach extends beyond his art making to his teaching as well. John's students arrive in the studio as underpaintings and later leave with new layers of knowledge, aesthetic meanings and perceptual understandings.
John has taught at NYU since 1992, and has made important contributions to the University's arts community. He has headed up the Painting & Drawing Program, directed the MFA in Studio Art Program, and created and taught hundreds of NYU classes in New York, Italy, and Abu Dhabi. Since 2011, he has been a key arts faculty member at NYU Abu Dhabi, returning each academic year for a full semester.
The body of art works in Above Below and Below Below contain John's observations and fascinations with the city of Abu Dhabi, his students, and reflections on an artistic life lived between Abu Dhabi and New York. While these works draw inspiration from the visual world of the U.A.E. and the desert, they also help us to envision new possibilities and dimensions inspired by the mysterious worlds far above and below us. In their totality, these paintings and photographs also offer a brief glimpse into the inner and outer spaces of a true painter's imagination.
David Darts,
Associate Dean of the Arts, Program Head Art and Art History, and Senior Affiliate Faculty at New York University Abu Dhabi.
---
John Torreano
(b. 1941, Flint, Michigan) attended Flint Junior College where he received his AA in 1961. He received his
BFA
from the Cranbrook Academy of Art (1963), and his
MFA
from Ohio State University (1967) where he studied perception as it relates to painting with Hoyt L. Sherman and Robert King.
Torreano has exhibited at museums and galleries across the United States, including: the Museum of Modern Art, the Whitney Museum of American Art, the Corcoran Gallery in Washington D.C., and the Indianapolis Museum of Fine Arts. He is the recipient of a Nancy Graves Foundation Grant for Visual Artists, a John Simon Guggenheim Memorial Foundation Fellowship and individual grants from the National Endowment for the Arts and the New York State Council of the Arts. He is currently represented by: Carl Solway, Cincinnati OH, Susanne Hilberry Gallery, Ferndale MI, Jean Albano Gallery, Chicago IL and Art House 429, West Palm Beach, FL.
Torreano has been a Professor at NYU since 1992 and NYU in Abu Dhabi since 2011. He is also the author of: Drawing by Seeing, Abrams 2007. In addition to object making, Torreano has given many comedic performances, which address contemporary culture/art.
On view November 8th – December 3, 2016
Open Saturday-Thursday, 3-10 pm
Reception: Thursday, November 10, from 5-6:30 pm
Free and open to the public