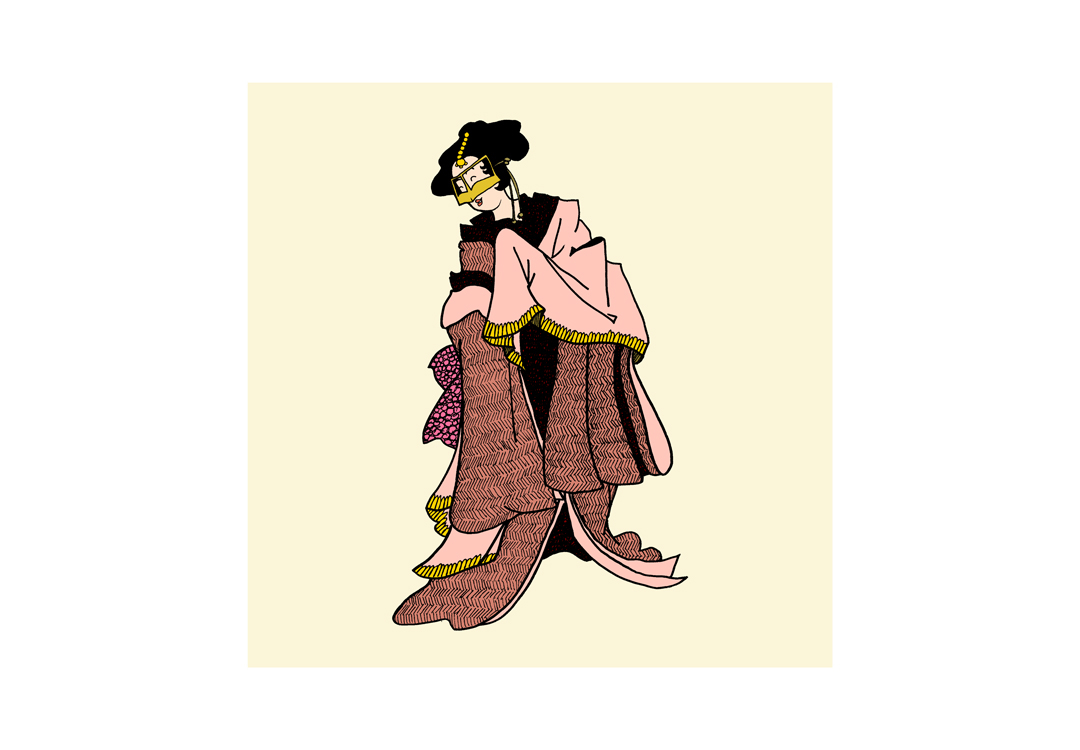 EAST-EAST
UAE

meets Japan

Khalid Mezaina, Al Anood al Obaidly, Amna al Maamari, Ahmed al Anzi.
East-East: UAE meets Japan explores work by four young voices of the Emirati art scene through cross-cultural interactions with the arts of Japan. The exhibition draws parallels between Japanese and Emirati culture as both societies, steeped in tradition, are propelled into a postmodern age while striving to maintain a balance between their cultural heritage and a curated futurism. East-East challenges and expands the meaning of "global art" as understood by artists, curators, and viewers in an increasingly interdependent world.
This thematic dichotomy will explore the inherent tension between tradition and modernity – Nōh and Bedouin mythology, spirituality and repetition, Zen Buddhism and the desert's connection to materiality.
The curator, Sophie Mayuko Arni, is an NYUAD student in her senior year. She explains: "I wanted to break the overused and overheard 'East-West' terminology by turning it on its head. Why always look to the West, when we can look Eastwards?"
Curated by Sophie Mayuko Arni Class of 2017, NYUAD
October 18th-31st, 2016
Open hours: Sunday – Thursday, 3:00pm – 10:00pm.
Opening Reception: October 18th, 5pm
Ahmed Al Anzi (b. 1984, Abu Dhabi) is a fashion designer, artist, curator and cultural critic with a special focus on sustainability and eco-design. His work deals with the perception of ceremonial wear in the Gulf region. He has been involved in the thriving Dubai fashion industry and Abu Dhabi's art scene, receiving in 2014, a Cultural Fellowship from Abu Dhabi Music and Arts Foundation (ADMAF). In 2015, he co-curated The Secret Life of Date Palms, an exhibition organized by Brownbook, as well as acted as Cultural Ambassador at the UAE Pavilion at EXPO Milan (2015). He has been invited to moderate a number of talks about the Emirati creative industry, including the DiA (Dialogue in Architecture) organized by The Tryptic Note in Dubai (2015), and the Riwaq Al Fikr as part of the Abu Dhabi Festival organized by ADMAF (2016). He studied Environmental Science and Marine Biology at Auckland University of Technology. He defines himself as a 'Contemporary Bedouin'.
Ahmed Al Anzi is a talented fashion designer, taking an innovative approach to traditional Emirati garments. He is also always on the lookout for innovating the set Emirati national dress for men and women, especially the bisht, the iconic garment reserved for men's ceremonial wear. His studies on re-shaping the bisht into a rounded form made headlines in Sharjah's 'Defashstruction' exhibition in 2015. For East- East, Ahmed will create a fusion of the bisht and the men kimono. He will make a statement about the capacity to innovate traditional dress to make them relevant in our contemporary world as well as highlight the similarities between the Emirati and Japanese ceremonial wear and practices.
Anood Al Obaidly (b. 1990, Abu Dhabi) is from Abu Dhabi and is a 2013 graduate of the College of Arts and Creative Enterprises at Zayed University, where she earned a BA in Visual Arts. She works with mixed media and found materials, exploring outdoor spaces in the Al Bahia area of Abu Dhabi. Her most recent exhibition, Turning Point took place at Tashkeel, Dubai in 2014. In the same year, she was awarded the prestigious Sheikha Salama Artist in Residence Award, which allowed her to work for one year with visiting faculty from the Rhode Island School of Design.
Anood Al Obaidly is a conceptual artist working with found objects and the notion of process as art. Her preferred materials have ranged from cloth, knots and notebooks and more recently, plastic. For East-East, she will explore the consumption patterns of the UAE compared to Japan through the use of 'purchased found objects' at Daiso, the Japanese dollar-shop with branches in the UAE. Her work will carry a commentary on defining what art means, but also a social commentary on the avid and excessive fetichization for fast consumption that new generations in ultra-modern countries like the UAE and Japan seem to have.
Amna al Maamari (b. 1990, Abu Dhabi) graduated from Zayed University of College of Art and Creative Enterprises with a B.A. Visual Arts in 2013. She developed her interests in both drawing and sculpture when she was a student. Following her graduation, Al Maamari joined the prestigious Salama bint Hamdan Emerging Artist Fellowship Program in partnership with the Rhode Island School of Design for a year-long professional studio practice. Al Maamari is driven by rhythm and aims to capture stillness in fragments.
Amna al Maamari is a remarkable artist working with metal, wood, and canvas to achieve a sense of visual balance, and as she coined it, a 'pure sense of alignment'. Her work reminded the curator immediately of Japanese zen gardens, especially the iconic Ryōan-ji garden in Kyoto, a 'dry garden' made entirely of stone and founded in 1450. Amna will continue her body of work for East- East under the light of new readings about zen aesthetics and specific Japanese knotting techniques the curator has introduced to her practice.
Khalid Mezaina (b. 1985, Dubai) is a graduate candidate in Visual Communications from the American University of Sharjah, Khalid Mezaina entered the art world through full-time placements in art organizations, including the Sharjah Art Foundation and works currently at Tashkeel in Dubai. Khalid launched 'Krossbreed' in 2010, which is an independent, interdisciplinary studio and brand, involved in design and illustration. He is a graduate of the 2014-2015 edition of The Salama bint Hamdan Emerging Artist Fellowship (SEAF) Program. His art has been featured in regional and international exhibitions including Past Forward: Contemporary Art from the Emirates (2014); Emirati Expressions IV: Conventions of Art (2015); and Portrait of a Nation (Abu Dhabi Festival, 2016). 
Khalid Mezaina is a gifted photographer and artist working with hand-drawn illustrations, digitized and printed on delicate paper. His talent is evident from his earlier illustrations of carpet patterns and women wearing niqab. Interested in two-dimensional lines and forms and textile patterns, Khalid has taken the example of a ukiyo-e print by Suzuki Harunobu (1724-1770) as inspiration. Khalid will create 2 to 4 prints for East-East, which will reflect his affinity for Middle Eastern fashion and patterns mixed with Japanese minimalist composition and intricate superimposed designs.