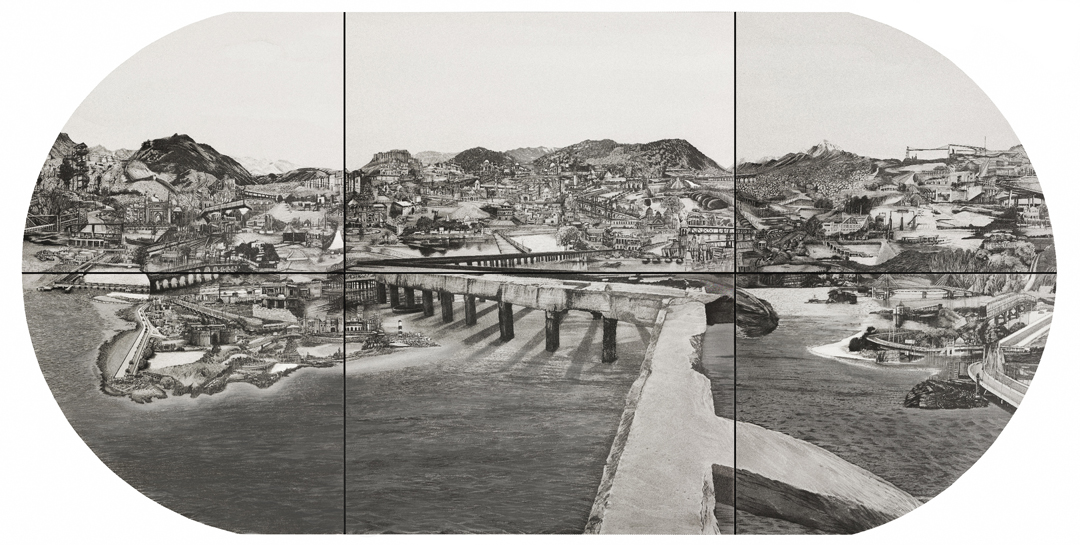 Crossings and Corridors:
Linda Adele Goodine and Saba Qizilbash
Curated by Flounder Lee
Crossings and Corridors features the work of Saba Qizilbash and Linda Adele Goodine, two artists who deal with difficult geopolitical realities in their work through widely different methods. Qizilbash's intricate, enticing drawings lure the viewer into a charged, hostile space, such as a border crossing between Pakistan and India. Goodine's work, massive, complex, and vividly colorful deals with topics such as the rising conflicts in the struggle between land conservation and economic progress. 
Linda Adele Goodine has been creating large-scale, performative, elaborate, constructed photos for three decades. The Blue Jackal Under the Tree, made during her Fulbright Fellowship in India, explores water scarcity, food systems, and river confluences through the lens of the monsoon. Her part constructed, part found artworks are a cross-disciplinary, and intergenerational dialogue in which she seeks an educational and collaborative solution for social justice and equality. For this exhibition, Goodine will combine works created during her Fulbright residencies with selections from two previous bodies of work: the Gibson Lemon Series and the Beeline Highway Series.
In Saba Qizilbash's work, she addresses themes of boundaries and limitations. Her small-scale, finely detailed drawings feel like vestigial sites between the places we reside: border gates, watchtowers, abandoned bridges. In her more complex larger drawings, she constructs imagined, labyrinthine pathways. From Pakistan to Bangladesh, for example, Qizilbash stitches the partitioned lands back together to create a fantastical landscape that could never exist but looks like it could. 
Qizilbash says, "I draw these locations to immerse myself in the inquiry of these imagined and inviolable boundaries where constant separation and surveillance take place."
Born in Lahore, Pakistan, raised in the UAE, and attending university in both Pakistan and the US, Qizilbash is in a unique position to talk about the sociopolitical realities of South Asia. Her intense drawing practice takes a keen look at the lines that divide and unite.
"I chose these two amazing artists as much for their differences as their similarities. Qizilbash creates intricate graphite drawings and Goodine creates giant colorful photographs. Both, though, work with themes such as harsh socio-political realities. They are also two of the hardest-working and interesting artists with whom I've ever had the honor of working."
    — Flounder Lee, Curator Crossings and Corridors
---
Artist Biographies
Saba Qizilbash
Saba Qizilbash was born in Lahore, Pakistan in 1977 and raised in UAE. She has a BFA degree in Painting from National College of Art, Pakistan and a Master's degree in Art Education from Rhode Island School of Design, USA. Her practice focuses on the hemming of divided/disputed land through detailed urban infrastructural solutions. Her work also comments on socio-political grievances that affect her as a woman and as a South Asian. Her studio in Dubai and frequent travels to India and Pakistan gives her access to viewing the line of contention from both sides. From her current place of residence in Dubai, she draws painstakingly detailed drawings suggesting dystopic cities, routes and urban layouts that help transpose territorial interruptions. In her travels, she identifies and isolates images of Aloneness and delimitations based on observing fences, boundary walls, gates, and railway tracks.
In 2018, she was a finalist for the Sovereign Asian Art Prize. The same year she was commissioned by UAE Unlimited – funded and supported by His Highness Sheikh Zayed bin Sultan of Abu Dhabi- to create a 100-drawing installation for their annual show at Concrete Gallery. She is the first recipient of the Campus Art Dubai Grant (2019), funded and supported by Art Dubai and Art Jameel. Her recent group show at the Aicon Gallery titled Pale Sentinels, curated by Salima Hashmi was in response to the 70 years of the Partition of India. Her work has been showcased in New York, Dubai, Hong Kong, San Francisco, Lahore, and Karachi. She has designed a number of community art workshops in Dubai, Lahore, New Delhi and Providence, RI.
Linda Adele Goodine
Linda Adele Goodine's training includes a Master of Fine Arts (1984) from Florida State University, Tallahassee, Florida where she studied as a teaching fellow in photography with Robert Fichter, dance with Nancy Fichter, and installation/performance with Jimmy Roach; a Master of Science in Communication Arts (1981) from Ithaca College, Ithaca, New York in Video and Non-Verbal Communication Theories; and a Bachelor of Art (1980) from the University of Rochester, Rochester, New York where she studied with photographer Roger Mertin receiving an Interdepartmental Degree in Economics, Fine Arts and English Literature. During her studies at the University of Rochester, she researched the Farm Security Administration's collection at the George Eastman International Museum under the direction of Robert Doherty. Directly following graduate school she supported herself as a studio artist and was represented in New Orleans through Tilden-Foley Gallery and later the Res Nova Gallery. She concurrently taught sculpture at The Delgado School, before relocating to the Midwest to accept a position at the Herron School of Art where she is now a Chancellor's Professor of Art. 
Goodine's work has been presented at art fairs in Paris, New York, and Los Angeles under the representation of Lee Marks Fine Art. She purposely left the commercial gallery world of her early career to devote herself to teaching critical thinking to the next generations of artist-citizens. As an educator, her pedagogy is informed by the idea that art education can greatly enhance individuals and world cultures through the development of self-worth, self-sufficiency, empowerment, and creativity. Her mentorship spans thirty years. Major external grants include the Florida State Art Council Individual Artist Grant (1985), New Forms Florida Grant collaboration with Chuck Badland (1990), inaugural recipient of an Aaron Siskind Foundation Fellowship (1992), The Southern Federation for the Arts Fellowship NEA (1991), Efroymson Fellowship/Central Indiana Community Foundation (2005), Indianapolis Arts Council Individual Grant (2002, 2007), the Indiana Arts Commission Creative Renewal Grant (2003,2014), and the NEA Interarts Program/Rockefeller Foundation. She was twice nominated for a Tiffany Award. Ms. Goodine currently lives in India and is working on a Nehru-Fulbright project titled The Blue Jackal Under the Tree incorporating sound, video, and photography.
---
Curator Biography
Flounder Lee
Flounder Lee is an artist/curator/educator living in the UAE where he is an Associate Professor of Studio Art at American University in Dubai. He received his BFA from the University of Florida and his MFA from California State University Long Beach, both in studio art and photography. Flounder's work has been shown extensively including Barcelona Art Contemporani 11; Transvideo-Borderless Image in Finland; and Sikka Art Fair in Dubai.  He has curated many exhibitions such as On this night…, Double Vision, and Aerospacial. He founded and then directed SpaceCamp MicroGallery in Indianapolis before moving out of the US; at Spacecamp, he curated numerous group and solo exhibitions such as Mapable and Eco-Logic: Artists' Take on Environmental Changes. 
Along with curating and jury work, Flounder also writes and lectures on other artists' work. He has written for Tribe Magazine including Lydia Ourahmane: Challenging Systems. In 2017, he was on the panel Changing Lenses: Contemporary Photography and New Media from the Arab World at the College Art Association conference in New York.
His curatorial practice deals with some of the same topics as his art practice, such as retro-futurism, aerospace themes, and ecological change but is wider in scope and material than his artistic practice. Two of his curatorial focuses have been the object in performance and multi-channel video. He is currently a mentor for the 2018-2019 Critical Practices Program at Tashkeel in Dubai. 
On View March 10th – 26th
Open Saturday-Thursday, 3-10pm