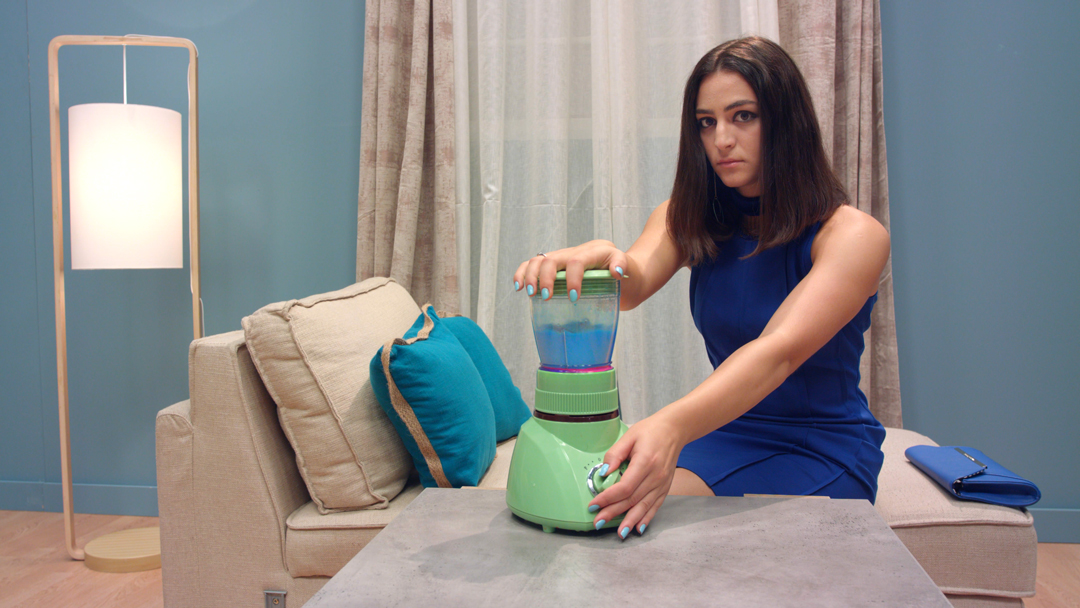 David Darts:
Discomfort
Occurring in tandem with "Putting for Pleasure and Politics" A Playable Sculpture Garden
In the Project Space Gallery November 12th-25th
Discomfort
In this series of new works, David Darts explores and playfully confronts uncomfortable-ness. The exhibition approaches discomfort primarily as a generative state, even if the experience itself is not always pleasant, a state that can lead to intellectual growth and provide artistic inspiration. From the trauma of a childhood drowning incident to the dysfunctions associated with misophonia, literally a hatred of certain sounds, he uses video, photography, and sculpture to examine the social and domestic aberrations that have resulted from his own lived discomforts.
---
In Arts Center Plaza November 12 – 25th
Putting for Pleasure and Politics

A Playable Sculpture Garden
David Darts continues this exploration of discomfort in a coinciding installation of work that extends out of the Project Space gallery and into the adjacent plaza in the form of an artist designed golf course. Darts invited nine collaborating artists (see below) to approach a contemporary social issue through the inherent absurdity of mini golf. The result is a life-sized playable sculpture garden which provides participants with an artistic, if slightly disconcerting, snapshot of our current historical moment.
Mini Golf Collaborating Artists
Hashel Al Lamki
Wendy Bednarz
Jonny Farrow
Jill Magi
Sandra Peters
Craig Protzel
Goffredo Puccetti
Laura Schneider
John Torreano
---
Discomfort
I am for art you can sit on.
I am for art that is uncomfortable and inconsolable, art that forces you to make hard decisions and easy money. 
I am for art that rejects creature comforts, embraces creative uncertainties, strives for something better, art that accepts the pain before the gain. 
I am for an art you can live in.
I am for a life you can art in.
I am for art that confronts uncomfortable truths, art that speaks truth to power, art that always powers through.
I am for art that crushes you. 
I am for an art that you can crush on.
I am for art that shows resilience in the face of adversity, art that builds character, that is not afraid to fail, art that yells damn the torpedoes, full speed ahead.  
I am for art that wins staring contests, art that asks if I look fat in this. 
I am for art that backs you up, art that doesn't call you back.   
I am for art that is inconvenient, inconsistent, and incoherent, art that oversleeps the alarm, art that comforts the afflicted and afflicts the comfortable.
I am for art that makes a mess, art that messes around, art that messes you up.
I am for art without answers, art that doesn't know the ending, art that doesn't end the knowing.
I am for art that talks out of turn, art that turns you on, art that turns on you.
—David Darts (with thanks to Claes Oldenburg)
---
About the Artist
David Darts is an artist, designer and a faculty member in the NYU Art Department. He serves as Associate Dean of the Arts and Head of Art & Art History at NYU Abu Dhabi. Darts uses sculpture and designed objects to provide spaces for critical reflection and social critique. His work has been featured in over 200 international publications, including New Scientist, Le Monde, Ars Technica, and Wired Italia. His research and writings about contemporary art, education, emerging technologies and creative citizenship have been published in a number of top scholarly journals and books.  
---
On View November 12th – 25th
Open Saturday-Thursday, 3-10pm
Opening Reception: Putting for Pleasure and Politics, Monday November 12th, 6:00-6:30pm in the Arts Center Plaza
Opening Reception: Discomfort, Monday November 12th, 6:30-8:30pm in the Project Space