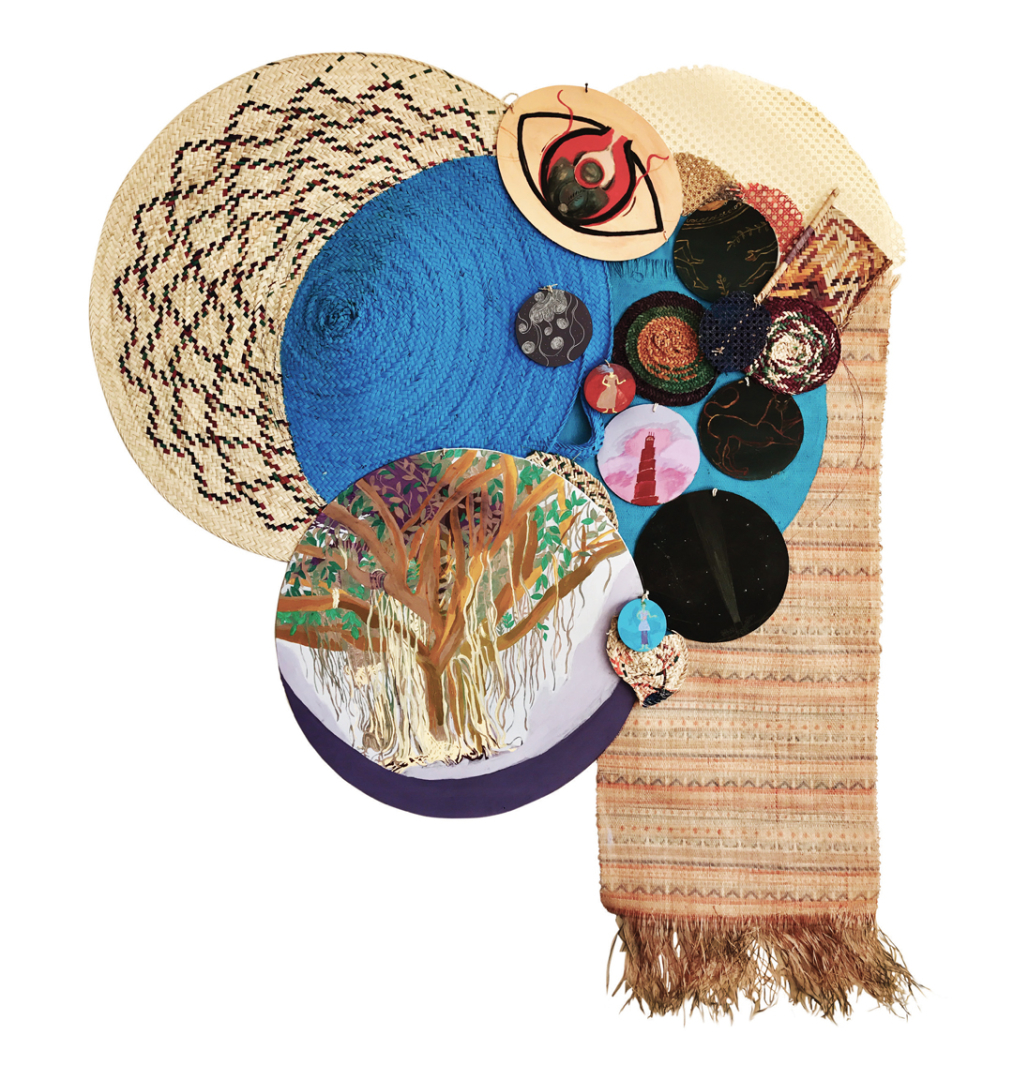 Elizabeth Dorazio
Symphoniae
Dorazio's latest body of work, Symphoniae (from συμφωνία, meaning agreement or concord of sound) is grounded in the notion of creating harmony from disparity. More than the simple juxtaposition of objects, these works extend and flow, flexing a certain malleability to connect, to weave together what is apart. Images plucked from dreamscapes, rendered in the unforgiving medium of egg tempera, mingle with popular art techniques, suggesting universal connections that supersede the mundanely uni-cultural, hinting at some cosmic organizing force that would fold symbols and artifacts into its metaphysical, spherical embrace. Al-khous palm frond weavings, crafted by Emirati Bedouin women, spiral throughout the work, forming the basic movement-infused backdrop across which dance other elements, some crafted, some appropriated. 
But the eclectic components of Symphoniae don't just invite a multiplicity of interpretations in the satisfying glow of some happy universal ideal. They also rub salt in the wound of what it means to "cannibalize" other cultures.  Recalling Oswald de Andrade's Cannibalist Manifesto (1928), in which the Brazilian poet argues that Brazil's history of cannibalizing other cultures enabled it to escape European postcolonial cultural domination, the artist tugs at syncretism, asking us to find the regional in the universal, and vice versa.  
---
About the Artist
The artist was born and raised in Araguari, deep in the Brazilian hinterland. Currently residing in Dubai, she works between Brazil and the UAE. Her practice draws on the visual cultures and popular techniques of both "homes." 
Dorazio studied Visual Arts at the Guignard University of Art (Fundação Escola Guignard) in Belo Horizonte, Brazil, later specializing in Ancient Italian Art Techniques at the Institute for Art and Restoration (Istituto per L'Arte e il Ristauro), Florence, Italy, and finally, in Germany at the Abendschule, Staedelschule. She studied art history under Rodrigo Naves, one of Brazil's foremost art critics and scholars. 
Dorazio's practice centers on mixed-media works and installations. To skim through her myriad bodies of works is to glimpse a fascination with instability, shifting surfaces, the cosmic, the organic, the cellular, skin. While she remains faithful to a certain technical classicism (drawing, etching, the use of egg tempera), she also disrupts through material (x-ray fragments, chair caning) and scale. Upstream, her works are process-driven; on reception, they seem urgent and interactive.
The artist has exercised her skills as a curator in the exhibitions Existenzielle Korrespondenzen (Frankfurt am Main/São Paulo, 2016), Blue Connection (Frankfurt am Main/São Paulo/Sorocaba, 2010-11) and Schweizer 9 (Frankfurt am Main, 2008).
June 7th – June 23rd, 2018
Saturday-Thursday, 3-10pm