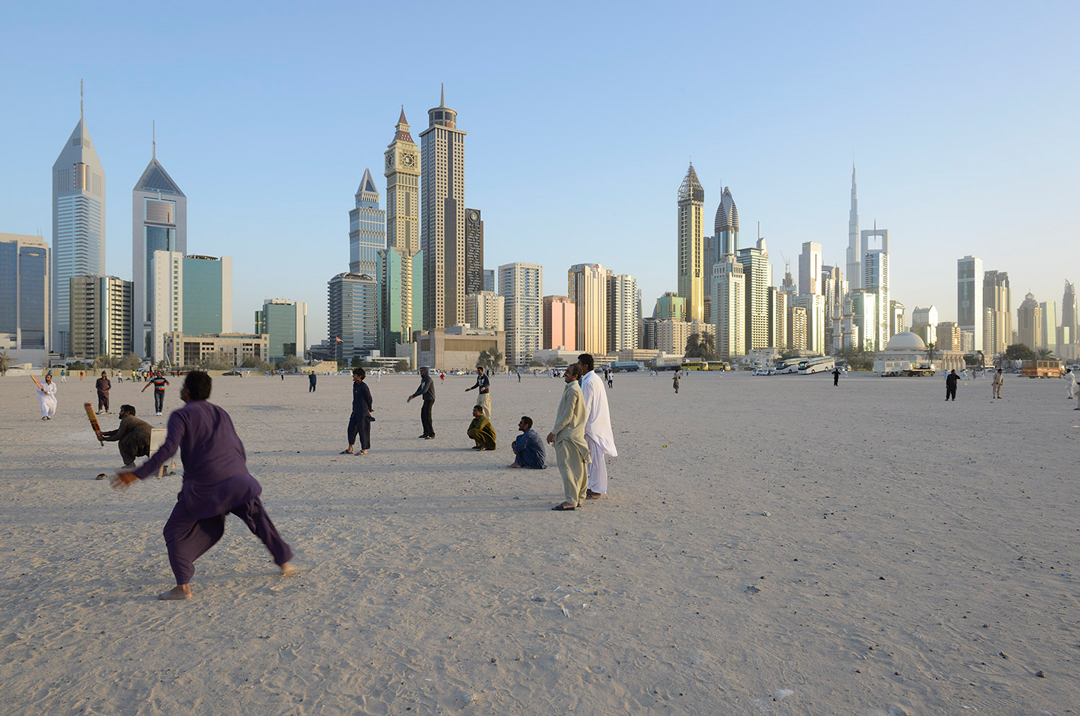 Learning from Gulf Cities
Michele Nastasi, Harvey Molotch, and Davide Ponzini
Learning from Gulf Cities is the culmination of a long-term collaboration between Harvey Molotch and Davide Ponzini, with architectural photographer, Michele Nastasi, whose photography critically investigates and interprets urbanization within the Gulf and beyond its boundaries. His work illustrates the transference of similar urban modeling from one region to another, a process that is often flawed or incomplete. Nastasi's images reveal to us how local context alters the nature of an architectural design project, however "global" the architect or international the funding source.
In their dual roles as receivers and transmitters of contemporary urban trends, cities like Dubai, Doha, and Abu Dhabi increasingly influence the shape of places beyond the Gulf and the region. This exhibition challenges depictions of Gulf cities as insular, insubstantial or merely flamboyant imitators, and instead portrays them as both originating, as well as reflecting, what is happening in the wider urban world.
---
ABOUT
THE
ARTISTS
Michele Nastasi is a photographer and an architecture and urban studies scholar. In part, through a residency at the Akkasah Center for Photography (NYUAD) and a fellowship at the King Faisal Center for Research and Islamic Studies in Riyadh (2017), he has expanded his photographic work in the Gulf region. His prior photographs have been exhibited in venues such as the MIT Museum in Cambridge, USA, NYU Washington Square, New York and the Biennale in Venice. He is the author of Suspended City: L'Aquila after the Earthquake (Actar), and coauthor (with Davide Ponzini) of Starchitecture. Scenes, Actors and Spectacles in Contemporary Cities (Monacelli Press). He has also curated exhibitions and taught Architectural Photography at Politecnico di Milano. From 2007, he has been editor of the architectural review Lotus international. He is currently PhD candidate in History of Arts at Università Ca'Foscari/IUAV of Venice.
Harvey Molotch teaches at NYU New York, where he has been Professor of Sociology and Metropolitan Studies. He researches issues of city growth and urban security as well as on product design and development. He is a past Centennial Professor at the London School of Economics, Professor at Essex University (UK) and Chair of Sociology at the University of California, Santa Barbara. His books include the influential Urban Fortunes (University of California Press), a book on product design, Where Stuff Comes From (Routledge) and a volume on urban security, Against Security (Princeton University Press).
Davide Ponzini is currently Associate Professor of Urban Planning at Politecnico di Milano and Visiting Professor at TU Munich. His research focuses on planning theory, urban and cultural policy, and contemporary architecture. In the past decade, he was visiting scholar at Johns Hopkins University, Columbia University and Sciences Po Paris. He is the coauthor (with Pier Carlo Palermo) of the book Place-making and Urban Development: New Challenges for Planning and Design (Routledge) and coauthor of the book (with Michele Nastasi) Starchitecture. Scenes, Actors and Spectacles in Contemporary Cities (Monacelli Press).]

November 12 – December 6, 2017
Saturday-Thursday, 3-10pm
Opening Reception: Monday November 13th, 5:00pm to 6:00pm.
The exhibition opens with a keynote lecture by Nasser Rabbat (Aga Khan Professor, MIT) "Historical Memory and Coca-Cola: Reflections on the Arabian Gulf cities," November 13, 6:30pm - 8:00pm, NYUAD Campus, Conference Center.
More info here.
Exhibition "walk-and-talk," led by Michele Nastasi on November 14 from 10:00am -12:00 noon. Other scholars from the region, along with Molotch and Ponzini, will join in a collaborative Q&A. More info here