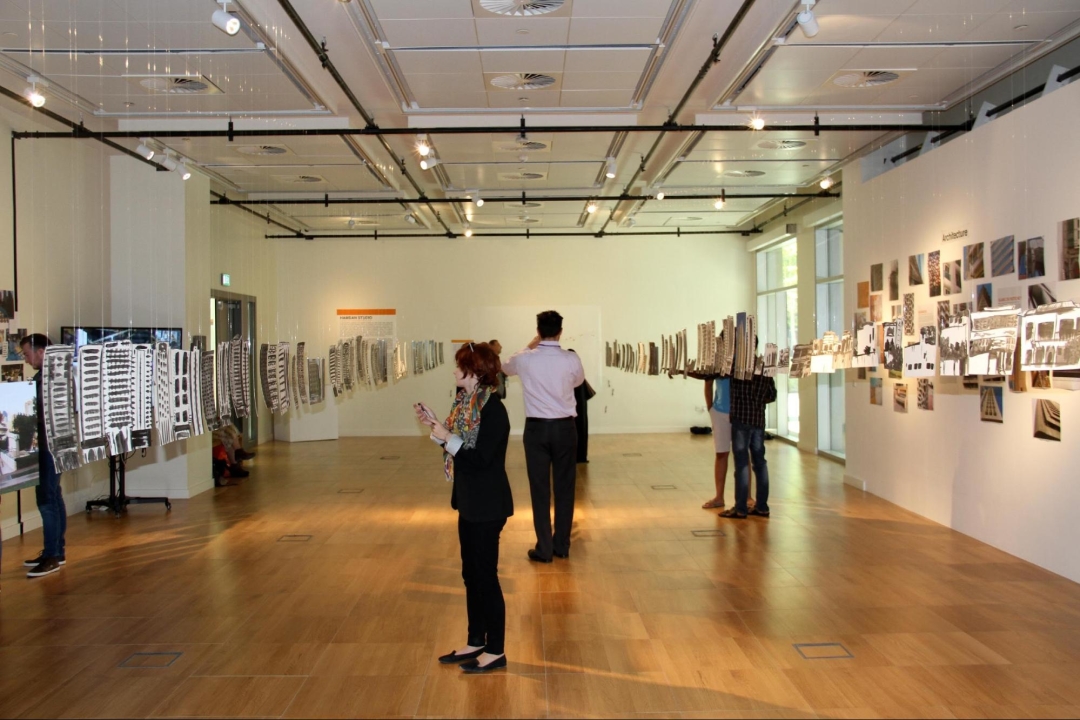 Hamdan Street
J-Term Architecture Class Student Show
In January 2015, students of the "Modern Architecture in Abu Dhabi" class, along with visual artist and Global Academic Fellow Julie stopper, documented and analyzed the landscape of Hamdan Street. They researched the history, urbanism, architecture, and ethnography of the street. They met with preservation specialist Amel Chabbi from the Tourism and Culture Authority, art collector Sultan Al-Qassemi, founder of the Barjeel Foundation, and urban planner Lukas Sokol from the Urban Planning Council. They explored the streets history, from the foundation of Qasr Al-Hosn in 1761 to the demolition of the Central Market in 2005. They conducted fieldwork along Hamdan, reconstituted the streets planning, and studied the architecture of some of its landmarks.
From Hamdan Street, we learn to renew our appreciate for the Abu Dhabi vernacular, from the "Hamdan Orange" of the sidewalks to the gracious muqarnas that adorn several buildings. We learned that the Abu Dhabi modern, from the futuristic hotels to streamline bathrooms, is based less on stylistic orthodoxy than on a taste for utopic planning and economic optimism. We learned that a true global city is one that looks after all its residents, including the most fragile and the least fortunate ones. Hamdan is the site of Abu Dhabi's vitality and adversity, in this rare creation should be cherished and protected.
---
J-Term Architecture Class Student Show
:
Hamda Al Falahi,
Noor Almehairbi,
Sophie Arni,
Dahlia Baby,,
Tanya Bansa,
Andrew A. Callender,
Rayne B. Holm,
Pascal Menoret,
Marial V. Monk,
Fin Murray-Jones,
Connor Pearce,
Julie Stopper,
Taiki Sugita,
Abhimanyu Vasishth.