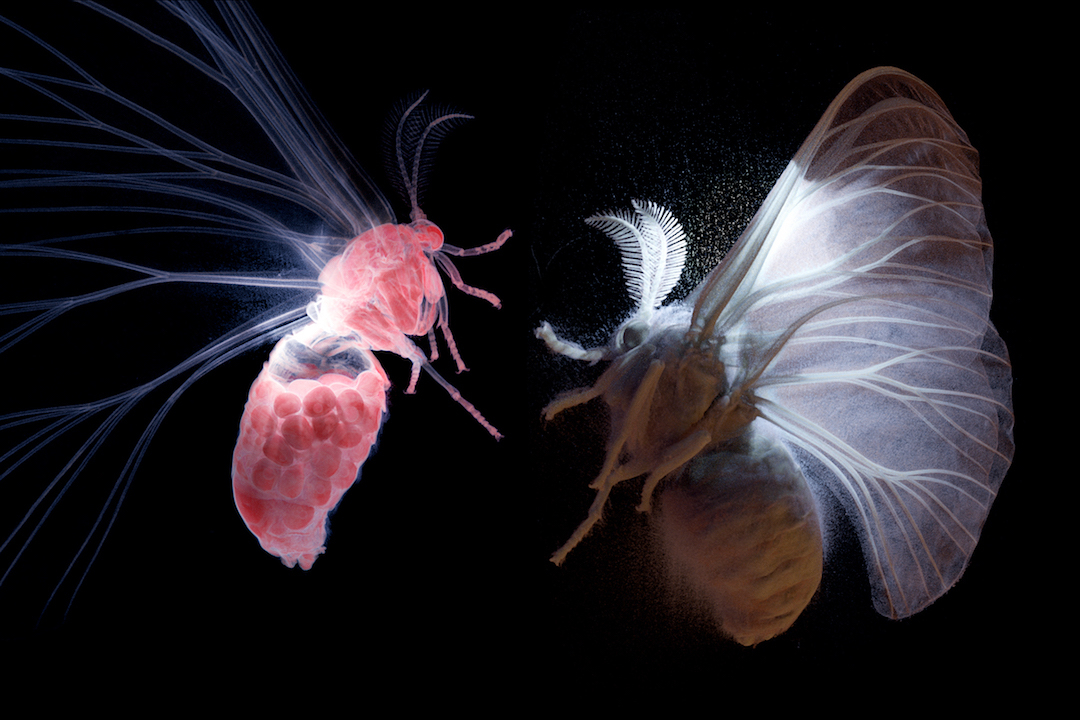 Imagine Science Film Festival
Spectrum
Light technology has always shaped how we see and understand the world providing us new insights, methods and understandings of how investigate our surroundings, and their scientific and artistic subtexts. SPECTRUM is a science-art exhibition held in conjunction with the Imagine Science Film Festival Abu Dhabi and the NYUAD Arts Center and will feature the subject of light examined by five international artists.  
OPENING RECEPTION: Thursday, March 2nd, 6pm
ARTIST DEMONSTRATION: Eliza McNitt Fistful of Stars
Thursday March 2nd, 6 PM
ARTIST TALK: Pohjankonna Oy The Secret World of μCT
Friday March 3rd, 5 PM
ARTIST TALK: Stéfane Perraud A Color for Radiation Toxicity
Saturday March 4th, 1 PM
ARTIST TALK: Markos Kay Spectra of Scientific Observation and Theory
Saturday March 4th, 5 PM
Markos Kay is a digital artist, director and lecturer with a focus in art and science. He is best known for his video art experiment aDiatomea (2008), exhibited at Ernst Haeckel's Phyletic Museum and the generative short The Flow (2011) which even made it into a Breaking Bad episode. His art and design practice ranges from screen-based media, to projection and print. His work can be described as a series of experiments using generative methods which explore and abstract the complex worlds of molecular biology and particle physics.
Eliza McNitt is a writer and director of films and Virtual Reality experiences. Her unique voice as a director, fusing science with narrative storytelling has been supported by The Alfred P. Sloan Foundation, Global Dialogues, TED, Google, and Time Warner OneFifty. She is the creator of Fistful of Stars a Virtual Reality experience following the journey of The Hubble Telescope through the cosmos that drew an audience of over 6,000 people at BRIC! Celebrate Brooklyn and was the world's largest communal virtual reality experience to date. The New Yorker profiled the experience writing "it astounded me, this feeling of floating above Earth, and tears began to emerge from my cardboard goggles." She is an artist-in-residence with Time Warner OneFifty and a member of the New Museum's NEW INC, an incubator to foster innovative projects in art and technology.
Pohjankonna Oy is a 3-man film production company based in Helsinki, Finalnd. Hannes Vartiainen and Pekka Veikkolainen are the directors of award-winning documentary films such as Emergency Calls (2013) and Death of an Insect (2010). Their latest film is a fulldome show called The Secret World of Moths (2015), currently on show at the Finnish Science Centre Heureka. Janne Pulkkinen works in the game industry and has taken part in creating the games Alan Wake (2012) and Quantum Break (2016), among others. Veikkolainen, Vartiainen, and Pulkkinen have explored the use of computed tomography in film and virtual reality. They are developing a unique microtomography visualization software designed for these purposes.
Stéfane Perraud is a visual artist coming from the performance and the multimedia scene. He is represented by Galerie De Roussan in Paris since 2013. He has been shown in several exhibitions and solo shows at La Malterie de Lille, Le Musée des Arts Décoratifs in Paris, Plateforme Paris, WE project et Maison Particulière in Bruxelles, YiA art Fair, Volta Basel, Art Paris, Choices Paris, Drawing Now Paris. Since 2003 he has created a series of performances such as Breaking and Writing Spaces in collaboration with the French American author Eli Commins. His shows have been seen at CNES, La chartreuse, Le Théâtre de la Cité Internationale or La Cité Nationale de l'Histoire de l'Immigration in Paris. He is also working with the choreographer Trajal Harell since 2011 on light settings ( XS Paris is burning at the Judson Church, The Ghost of Montpellier meets the Samurai & Used, Abused, and Hung Out to Dry at MOMA.
Graduating from Sciences Po Paris in 2006, young French filmmaker and producer Antoine Viviani first produced several music documentaries (for REM, Arcade Fire with the music filmmaker Vincent Moon or with companies like Ideale Audience) and worked with video artists like Pierre Huyghe. He later founded his own production company, Providences, with which he started to direct his first films: Little Blue Nothing (2009, 52 ', co-directed with Vincent Moon), then Fugues, a short films series about classical music (great classical music performers play in unpredictable daily life places, for Arte Live Web). His work focuses on the reenchantment of everyday life, and explores the possibilities of new media storytelling.