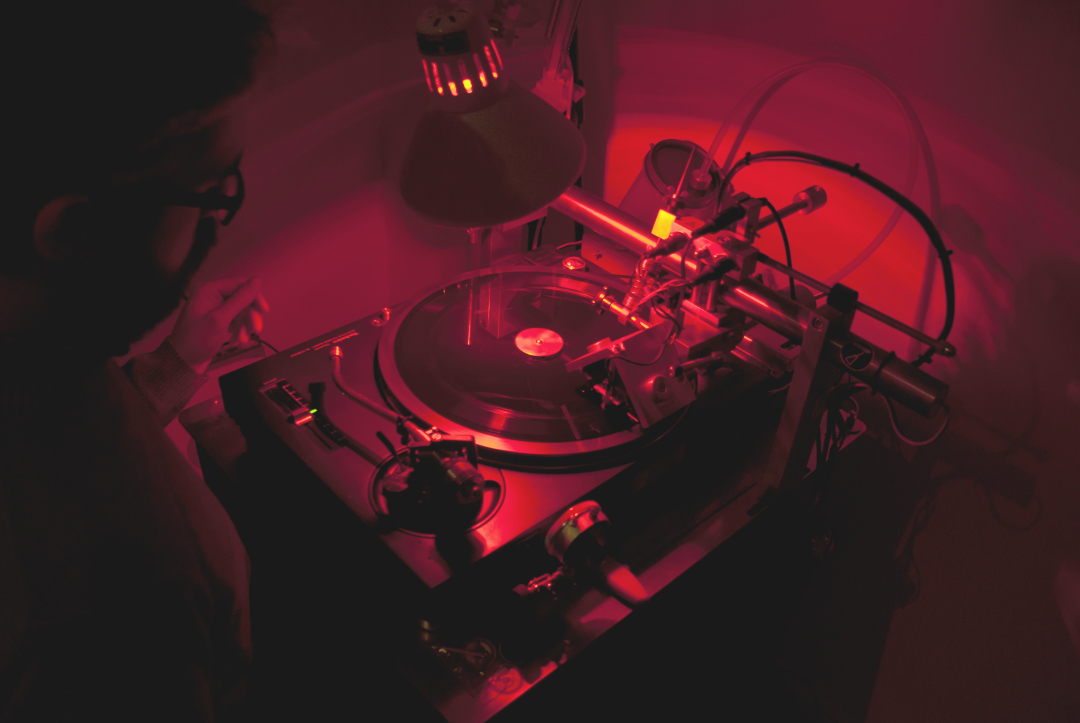 Phonography exhibits research carried out by Dr James Kelly looking at vinyl records and their use in music composition, performance, and sound art. The exhibition includes a collection of unusual records which exploit some of the media's creative potentials and limitations. Depending on the creators intentions, these records are called; dubplates, DJ tools, anti-records and artist recordworks.
As a turntablist for more than twenty years, Kelly's music explores the creative use of a disc-cutting lathe – a machine which is traditionally used in the manufacture of records. The mechanism and limitations of the lathe itself are used as an artistic tool to shape the music. The exhibition presents his personal archive of vinyl records which exemplify a number of experimental disc cutting techniques. Records are presented on tables and wall-mounted to allow visitors to view the records close up, revealing grooves which are variously eccentric, locked, broken, etched, cut over, or destroyed. The exhibition also includes; a documentary film of Kelly's studio practice, rehearsal and performances, photographs documenting the record cutting process, and sound clips of experimental recordings.
Kelly's lathe cut records are accompanied by a curated record collection including examples of sound art, disco, dub, hip hop, techno, and noise music each of which make their own unique use of the vinyl format. Many of the records included in the exhibition have been created with the intention for them to be remixed by DJs or to be used in live performance. The composition and layout of tracks invite particular approaches to DJ'ing, for example a hip-hop 12-inch includes an instrumental and an acapella on separate tracks, and techno records may feature short loops, as locked-grooves, to be beat-matched and blended into a continuous DJ mix. The exhibition reveals the breadth of phonography as an artistic discipline.
Tuesday through Sunday: 12-8pm. Closed on Mondays.
Opening Reception: Friday, February 3, 5:30pm
Dr James Kelly is a DJ, composer, performer, scholar, and teacher.
Read more
He is Senior Lecturer in Audio at SAE, Dubai and Music Instructor at Berklee Abu Dhabi and has a PhD in turntablist composition from De Montfort University (UK). His creative work explores the use of the turntable as an instrument. He pioneered the use of a vinyl disc cutting lathe as part of the compositional process in order to create turntable music and has worked in popular and experimental music as well as academia.