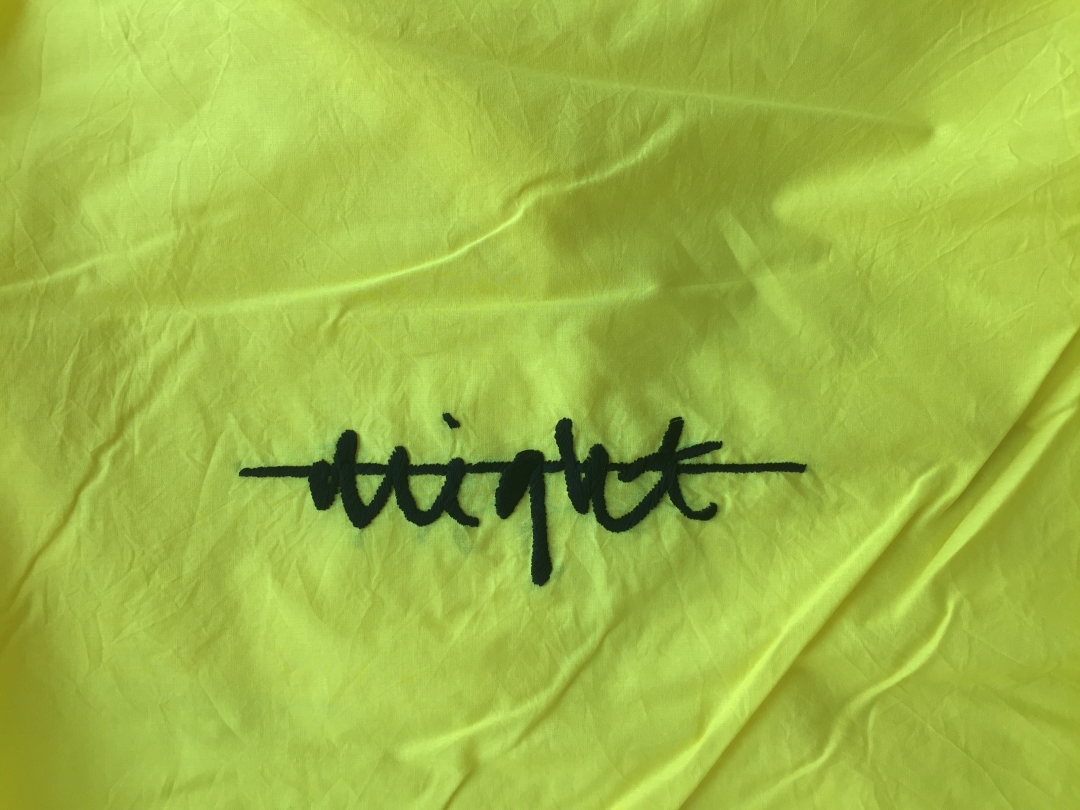 Jill Magi
Might (Writing and Stitching)
This exhibition gathers over five years of Jill Magi's works on paper, hand-embroideries, drawings, books, and paintings that explore the relationship between text and textile, the book and the body, the power of the word and of silence. Underpinned by the concept of penury—defined as extreme frugality, poverty, a stripping away—and the show's title—denoting persistence without brawn—the exhibit traces movements between austerity and abundance, withholding the mark and inscription as fetishized practice, and between the individual and the economy.
Jill Magi is an artist, educator, and critic who works in text, image, and textile. Her books—textimage hybrid works—include Threads (Futurepoem 2007), Torchwood (Shearsman 2008), SLOT (Ugly Duckling Presse 2011), Cadastral Map (Shearsman 2011), and LABOR (Nightboat 2014). Her recent critical work on "a textile poetics" was featured weekly for three months on Jacket2, an on-line journal of poetry and poetics. She was a resident writer with the Lower Manhattan Cultural Council, a resident artist at the Brooklyn Textile Arts Center, and since 1996 has taught literature, writing, and art at numerous colleges and universities. In 2013 Jill joined the faculty at New York University Abu Dhabi where she teaches expository writing through the study of textiles, as well as electives in poetry.
The Art Gallery Assistant Curator, Bana Kattan, writes:
The works on display in Magi's exhibition Might (Writing and Stitching) reflect the artist's liaisons between text and textile. In her work she often embroiders replicas of sections from her private notebook containing sketches, drafts, and inspirations. The end result questions the idea of private and public as separate realms. Unlike traditional embroidery, these inscribe unfinished and unfiltered ideas; they include dashes through words (as seen in the exhibition title) echoing scratches through the artist's thoughts.
One central piece, entitled LABOR, displays her embroideries on a low pedestal inviting the viewer to study the labor-intensive stitch. Magi's formal exploration of color and texture in this piece echoes modernist experimentation with monochrome painting. Embedded in the work, she creates a few white-on-white embroidered sections, sometimes layered underneath darker embroidery, giving a sense of ideas erased, or whispered.
Magi's usage of wrinkled unbleached muslin fabric resembling crumpled notebook paper interacts with the idea of the draft or sketch. Yet, her embroidery on this fabric shows the tension between her product and her process as the embroidery suggests the permanence of the text onto the fabric.
Magi's Might (Writing and Stitching) can help us widen our understanding of what conceptual textile work can achieve.
— Bana Kattan, Assistant Curator, NYUAD Art Gallery
Open Saturdays through Thursdays
Hours from 3-10pm.
Free and open to the public.
RECEPTION:
Thursday, September 10, 5-8pm
Artist's talk and readings
Open to the public