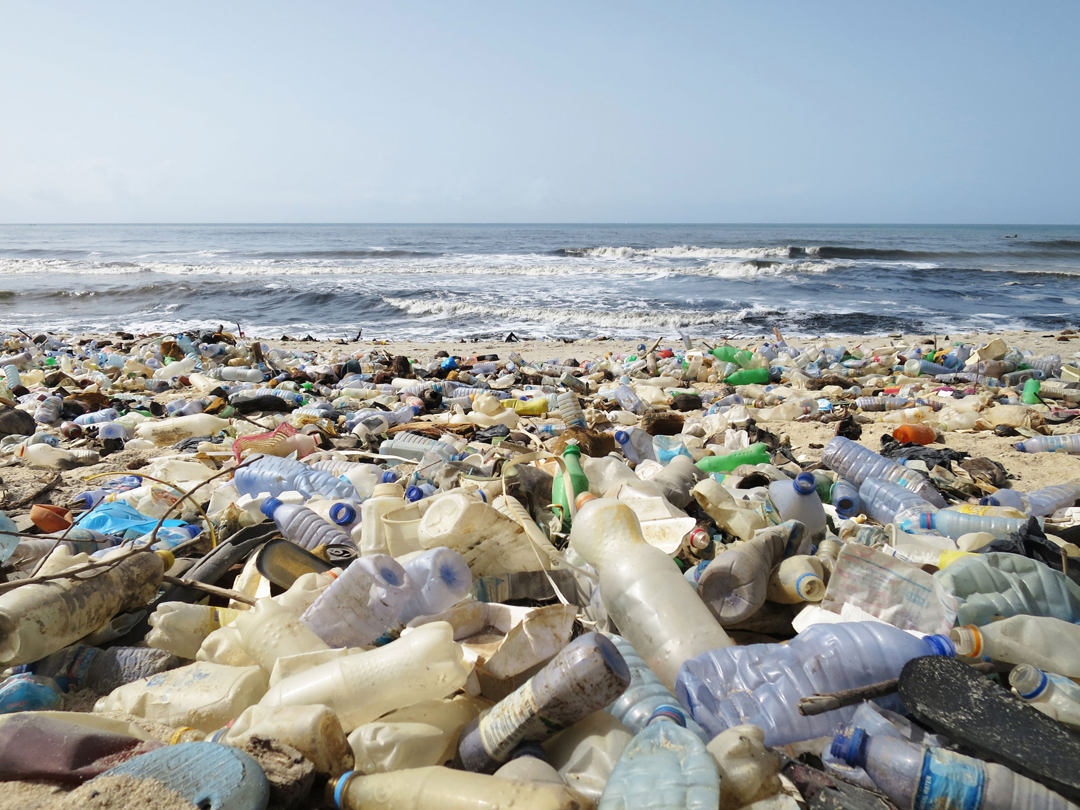 Plastic Fantastic
Curated by Professor Felix Beck, New York University Abu Dhabi, Engineering Department, and Marie-Claire Bakker, Zayed University, College of Arts and Creative Enterprises
Plastic Fantastic, curated by Professor Felix Beck, New York University Abu Dhabi, Engineering Department, and Marie-Claire Bakker, Zayed University, features work from more than 30 artists, created in reaction to the insidious nature of our reliance on plastic.
Plastic-based technologies have transformed the modern world. From IV tubing to blood bags and air bags; electric cables to computers; synthetic clothing to carpets—it's impossible to imagine a world without plastic. Plastics have ushered in an age of innovation and convenience, but have resulted in a catastrophic environmental crisis. Out of the 480 billion plastic bottles purchased in 2016, only 7% were recycled. 100 million tons of plastic waste are suffocating the oceans, and threatening marine life species with extinction. Microplastics which are estimated to be in the stomachs of 90% of all birds and fish worldwide, are also in the air we breathe, the water we drink, the food we eat…and the very bodies that sustain us. Plastic Fantastic addresses this crisis, elevating plastic from waste to fine art, from toxic material to redemptive metaphor.
This exhibition is presented in connection with the Precious Plastic WANA Conference 2018
---
Featured Artists
Aisha Salem Almehairi • Amal Naser Al Menhali • Amna Ali Aljaeedi • Arabella Willing • Arwa Hamad Aljneibi • Ashwaq Abdullah Abdulaziz • Asma al Ahmad • Asma Alasad Alkatheeri • Ayesha Ahmed Al Marar • Cristalina Parra • Fangqing He • Fatima Ahmed Alshehhi • Fatima Saleh Al Nuaimi • Gamilah Hussein Al Huthaifi • Hamda Essam Alkhajeh • Hend Hasan Al Hosani • Hessa Abdulla Alzaabi • Laura Schneider • Maha Khamis Alhosani • Mariam Humaid Al Qubaisi • Mohammed Ahli • Muna Hamad Jaralla • Nouf Khalid Almazrouei • Reem Rashed Aljneibi • Reem Saeed Almenhali • Sandra Peters • Sara Tariq Alnahdi • Sarra Hamed Al Refaei • Shamma Saeed Alkaabi • Shouq Yousef Aleghfeli • Ying Wang • Zainab Adel Al Amro • Zheng (Jack) Zhang • Zuhoor Saleh Almessabi
On View December 16th – 19th
Open Saturday-Thursday, 3-10pm
Opening Reception: Sunday December 16th at 6:30pm. Participating artists will be present.