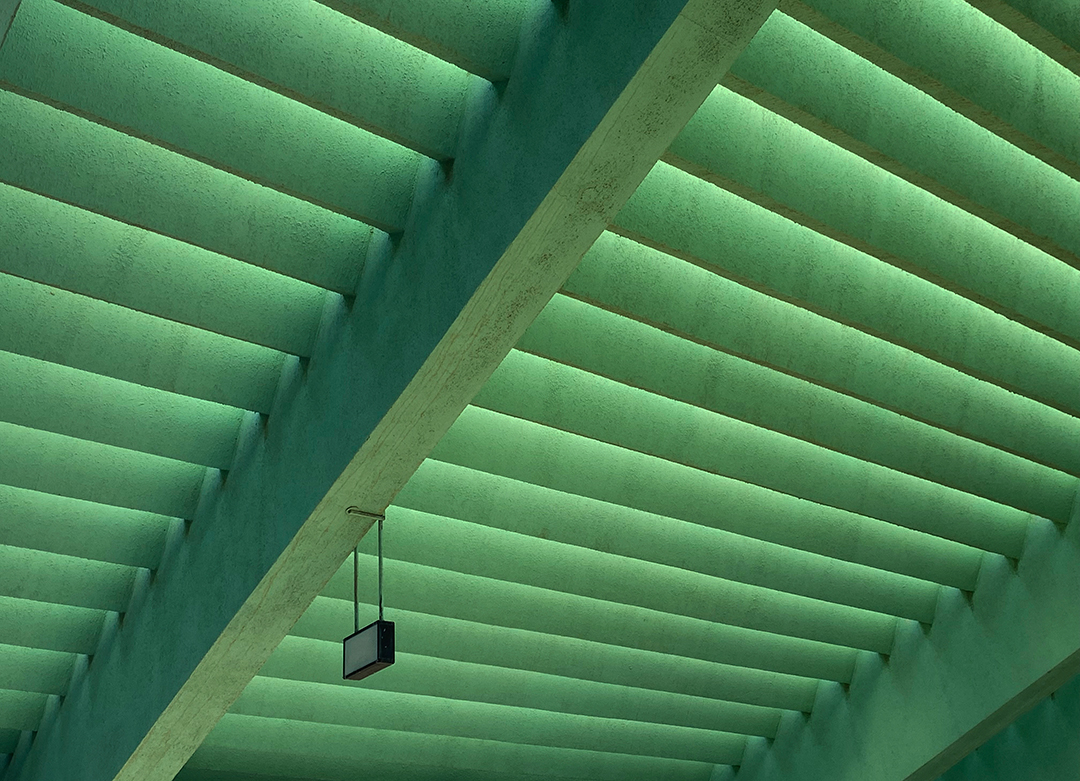 Almaha Jaralla:
Shadia
Curated by Hashel Al Lamki
Shadia is the latest body of work by artist Almaha Jaralla. It recounts the artist's recent family history of migration in the Arabian Peninsula by observing collective memories of the artist's maternal family members and their relocation within the region, while seeking comfort and surplus in their domestic living environments. This exhibition marks Jaralla's first solo exhibition following her graduation from Zayed University with a BFA in Visual Arts. She documents the shift in the surrounding territories through colors, architectural solutions, and family structures and how these collectively inform the artist's conceptual practice. The research hones in on land transformation to the constructed environment, deconstructing shelter-seeking modes for fast-growing nations and observing housing solutions from the pre-oil era to the most recent prefabricated housing complexes.


The exhibition follows Shadia, Almaha's grandmother and a heroic character that travels alone through the peninsula while leaving and collecting marks in the hopes of seeking the betterment of her living conditions as a direct result of the lack of access to safety, economy, and prosperity. Today, at three million square kilometers, the Arabian Peninsula is the largest in the world. It includes Kuwait, Oman, Qatar, Bahrain, Saudi Arabia, the United Arab Emirates, and Yemen, as well as the southern portions of Iraq and Jordan. Though historically sparsely populated, political Arabia is noted for a high population growth rate, a direct result of a massive influx of migrant labor and sustained high birth rates. The demographics reflect a relatively young and heavily skewed gender ratio dominated by males. The research spans archival family photos and documentation of recent site visits in Abu Dhabi.


The exhibition comprises paintings that range across techniques, from oil on canvas to traditional textiles and material exploration. The artist challenges her conceptual practice through these works by tying her family's historical business to sarong making in Aden. Jaralla utilizes the patterns on these sarongs and their significant meanings as backgrounds for her works to paint directly on.
— Hashel Al Lamki, Curator
Curator bio
Hashel Al Lamki is an artist and curator based in Abu Dhabi, UAE. Al Lamki graduated with a BFA from the Parsons School of Design in New York in 2011. He is a co-founding member of Bait 15, an artist-run gallery space in Abu Dhabi that provides a home for local artists to engage in critical dialogue (active 2018-2021). He co-curated several exhibitions for Bait 15 and Abu Dhabi Art 2019 – Bait Juma, a group show of family members "coming together to produce art." In 2020, Al Lamki curated Almost Home, a group show that unpacks the spaces of belonging and childhood through sense of "home," which goes beyond the embodiment of physical space. Shadia marks the artist's first curatorial project entailing a solo exhibition. Al Lamki's curatorial practice centers on story-telling with a particular focus on narratives of diaspora throughout the Arabian Peninsula.
Al Lamki is an artist in his own right. His practice as an artist focuses on social innovation, sustainability, environmental, and philanthropic practices. In 2016, he was awarded the Salama bint Hamdan Emerging Artists Fellowship (SEAF) as a member of the fourth cohort.
Tuesday through Sunday: 12-8 pm.
Closed on Mondays.
To access public spaces in Abu Dhabi, you will need to present your green ALHOSN app. If you don't have the app, a copy of a negative PCR within the last 14 days along with proof of vaccination and booster will be accepted. If you are not vaccinated, please present a 48-hour PCR.
Almaha Jaralla is a conceptual artist whose practice centers on color theory. She focuses on Abu Dhabi's modern history through the timeline and the shift in the constructed environments through the age of digital media.
Read more
Jaralla questions how living environments can become personal portraits, and alludes to the social-economic dynamics and ancestry histories. The question of Land and confined spaces remain at the center of her research. As an undergraduate student at Zayed University, Jaralla acted as President of the Student Council, where she explored ways of reaching out to art communities by organizing field trips to neighboring emirates. She has exhibited her work in several group exhibitions, including Connected, Collected by Engage 101, Sotheby's (Dubai, 2021); East-East Vol.4: The Curio Shop, HB.Nezu (Tokyo, 2021); Almost Home, Warehouse 421 (Abu Dhabi, 2020); and EMERGE III; Converging Lines, DD47 (Venice, 2019).