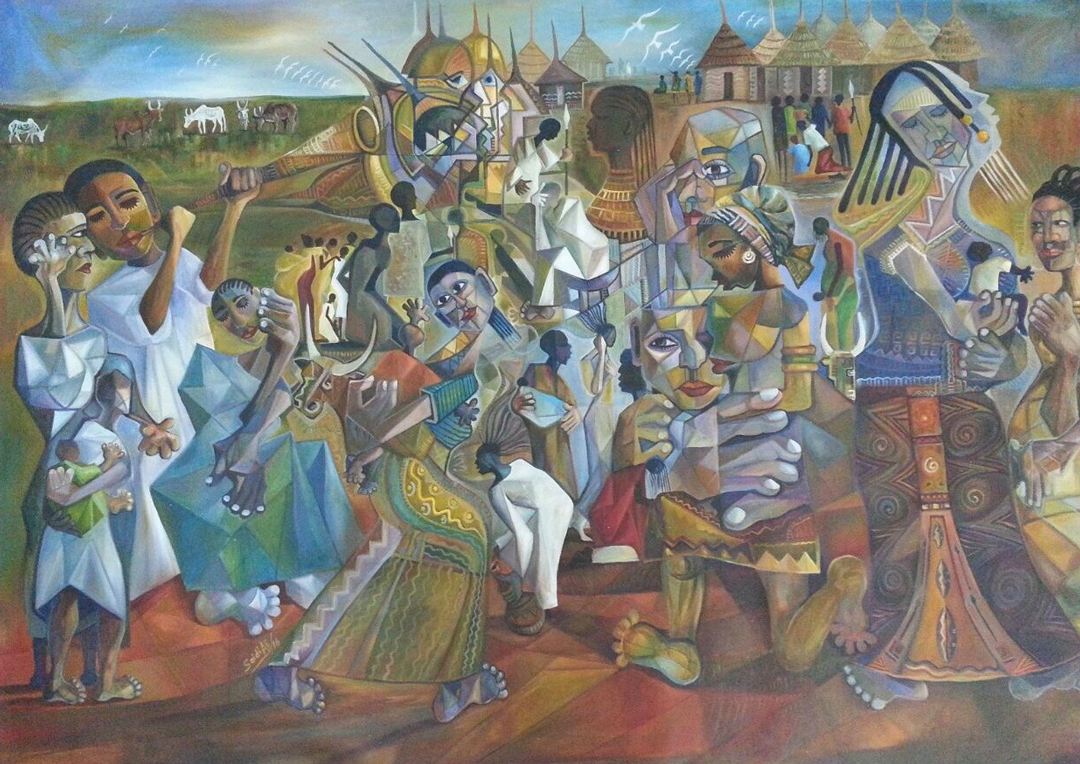 Saidi Ali Nasser Sowafy:
Ugandan Splendor – Imagining Home and History
Saidi Ali Nasser Sowafy's paintings immerse audiences in richly symbolic visual representations of 20th-century Ugandan village cultural and social life. Exhibition Curator Tamu Al-Islam chose to title the exhibition Ugandan Splendor: Imagining Home and History based on the artist's vivid and multi-layered color palette as well as his complex and rich imaginary of societal events impacting those communities.
This solo exhibition represents the first sustained study of this artist in the UAE, and a rare opportunity to see the trajectory of his practice. The exhibition surveys Sowafy's perspectives on celebrations of birth, harvest, and homecoming; the impact of famine, political conflict, and landmines; as well as questions of postmodern identity.
Ranging in size, Sowafy's paintings vary from grand-scale depictions of a combined variety of his common themes, to small-scale contemplative individual portraits of musicians, mothers, or village elders rendered in the artist's cubist-inspired style. His paintings tell the story of contemporary Africa where some of the most talented and educated are driven to leave the continent for better opportunities abroad. He often depicts women and children as the most vulnerable in these conflicts where land mines kill the innocent in rural areas many years after their deployment. While viewers may readily recognize the bright colors and bold African geometric vocabulary in his work, it is only upon closer inspection that the viewer will find despairing figures, escaping war victims, or praying expectant mothers.  
Sowafy's process starts with sketches he has created over the years, which serve as complex maps to help guide him in painting the large mural-like oils and acrylics. Highly proficient in acrylics, water colors, and oils, Sowafy's paintings, often large scale, are distinguished by their vivid color blending and strong geometric compositional structural lines. His themes include today's conflict over the control of African natural resources as the dominant factor influencing Africa's economic future and the ordinary village man and woman being left behind. In addition to canvas, Sowafy works in oil and acrylics on tent fabric with a high paint saturation quality that results in brilliantly-hued depictions of the people, livestock, birds, and musical instruments which populate his paintings.
In the curator's interview with the artist, he reflects: 
"I think painting is another way of conveying a message, the untold stories. Not everybody knows about Africa, and the media only covers the important things. But when you look more deeply at the man who has been hit by a landmine, it becomes clear that even those manufacturing the landmine don't know who has been hit, or the impact that they had. These paintings can communicate with the viewers, writers, maybe even reporters…. (in hopes that they will) try to read what the message behind the painting is. This is my objective."
He hastened to add that these people and their circumstances "…are not to be pitied," and these stories are not simply about tragedies. Rather than portraits of specific individuals, he paints the Ugandan people symbolically, to personify dignity and pride in who they are, and strives to capture the tremendous joy and resilience in their celebrations, harvests, and homecomings, always with a sense of hope for the future. 
---
Artist Biography
Born in Uganda, Sowafy is the son of a prominent painter. His late father, Ali Nasser Sowafy was often commissioned by the Ugandan government as a portrait artist, and taught Sowafy the basics of his craft. Sowafy developed his own style of painting after graduating from Makerere University, Uganda, with a Bachelor's degree in Fine Art in 1986. He is a longtime resident of the UAE, where he has had an active painting practice since relocating here in 1998. 


In 1998, Sowafy became a founding member of the Abu Dhabi Art Squad, a collective of expat painters.  Between 2005-2007, he participated in the Desert Trilogy projects, a series of charity projects in Dubai organized by the Art Works organization, titled the Camel Caravan, Arabian Horses, and Flight of the Falcon. 


Sowafy has had a number of solo exhibitions in Germany and the UAE. His work can be found in various collections in Germany, the UK, Ireland, Canada, the Netherlands, UAE, New Zealand, Australia, India, South Africa, and France.
On View January 12th – 28th
Open Saturday-Thursday, 3-10pm