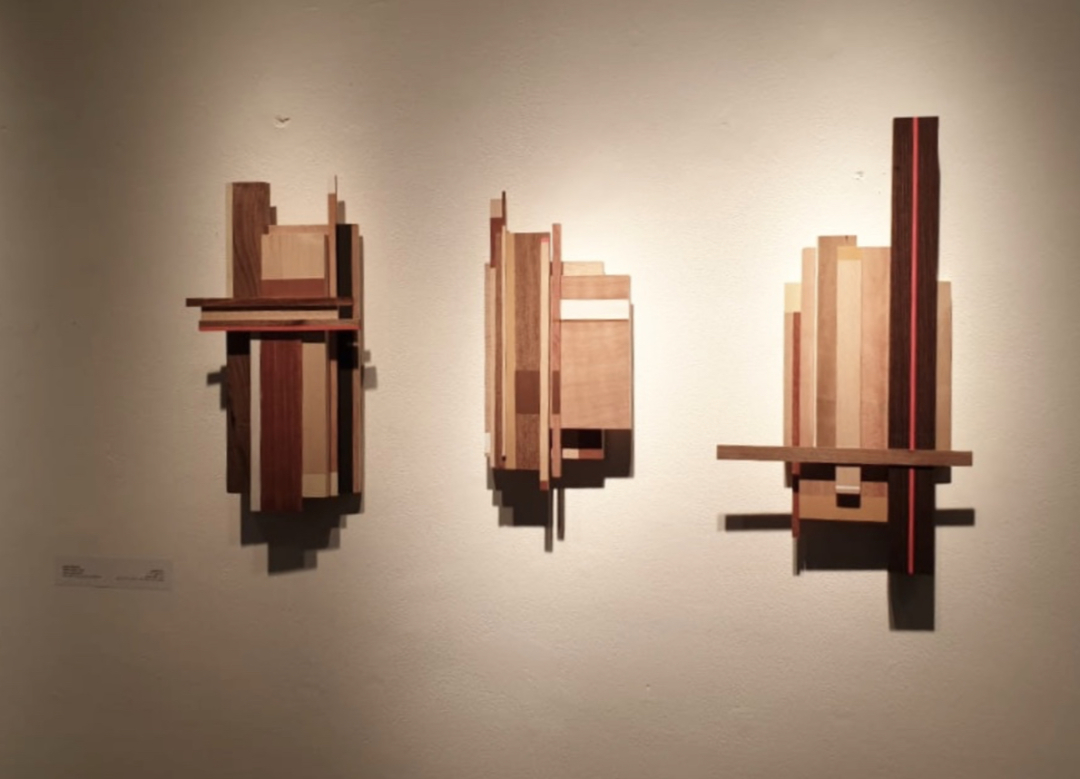 Video Tour with David Webb Museum Fellow Tala Nassar
The NYU Abu Dhabi (NYUAD) Art Gallery is pleased to announce the next exhibition at its auxiliary venue, the Project Space. Titled Intimaa: Belonging, this exhibition is the sixth in a series organized by UAE Unlimited, a satellite platform supported by His Highness Sheikh Zayed bin Sultan bin Khalifa Al Nahyan.
Taking place from February 15 to March 28, 2020, this exhibition will feature new commissions by UAE-based emerging artists who question their place in an era of globalization and how, through the rise of technological advancements, society has formed a unified existence that can be referred to as a 'universal identity'.
Curated by Emirati arts researcher Nasser Abdullah, Intimaa: Belonging will feature photography, sculpture by a number of UAE-based emerging artists including Emirati artist Saeed AlMadani; Emirati multimedia artist Sarah AlMehairi; Algerian cultural cartographer Sofiane Si Merabet; and Syrian multimedia artist Majd Alloush. In a new development, the exhibition will also feature newly-commissioned poems by poets to be announced closer to the opening. As with past editions, this year will feature an established artist-mentor, Saudi-Palestinian guest artist Dana Awartani. The artists will also receive mentorship from Dubai-based Iranian artists Ramin Haerizadeh, Rokni Haerizadeh, and Hesam Rahmanian.
In a new, unique development, Intimaa: Belonging will also introduce commissioned poems by
rising Emirati poets Ahmed Al Mannai, Ali Al Mazmy, Hassan Al Najjar, and Shamma Al Bastaki, all
of whom have been supported and guided by the award-winning poet, writer, and presenter Khalid
Albudoor.
"The question of identity and the issues related to it continue to arise. Despite all scientific, academic, literary, and artistic efforts, we are still far from resolving the dilemmas that the question of identity poses," says curator Abdullah. "As a matter of fact, it seems that the question returns with renewed dimensions and paradoxes that add to its complexity as time passes, events develop, and generations change. Through this exhibition, we hope to shed light on the concept of identity, to seek new answers to the recurring historical paradoxes that evolved over time in parallel to this question," he adds.
Chief Curator at NYUAD Maya Allison notes, "For the last six years I have closely followed the progress of this unique platform of UAE Unlimited: it is one of the first places I go to see what the younger generations of artists are working on. Each year it opens in a different UAE city, and I'm delighted that NYU Abu Dhabi will host this edition."
Speaking ahead of the exhibition, Executive Director of UAE Unlimited Shobha Pia Shamdsani, comments, "UAE Unlimited, supported by His Highness Sheikh Zayed bin Sultan bin Khalifa Al Nahyan, is a platform focused on nurturing a new generation of Emirati and UAE based artists. Our aim is to support artists by assisting them in the creation and production of new projects. We also seek to provide them with national and international exposure and opportunities for wider representation at this stage in their careers. And through our partnerships with local initiatives in the UAE, we are able to offer emerging artists the advantage of working directly with experienced creative professionals whose insights are invaluable to the development of these young artists."
"Having lived in the UAE for many years, I have long admired and respected how poetry has always been in the heart of this country. To that end, I intuitively decided to include it annually in our exhibition, and I felt that our first-ever collaboration with The NYUAD Art Gallery was the right opportunity to do that," she added.
In conjunction with Intimaa: Belonging, the artists will take part in the launch of UAE Unlimited's Stellar Programme, a series of complementary workshops throughout the year that exposes emerging artists to the business and media landscape of the art world. Some of these workshops will include Professional Photography, which will be led by Ayaad Damouni, owner of the famed Capital D Studio in Al Quoz, Dubai, and The Business of Art, which will be facilitated by gallerist Meagan Kelly Horsman of Meem Gallery in Dubai, among others.
---
UAE Unlimited supports emerging Emirati and UAE-based artists by producing and promoting their works through strategic collaborations with art and culture organizations across the country. The initiative thrives on creating opportunities for young and emerging UAE-based talent, thereby contributing to the overall cultural production in the UAE.
On View February 15th – March 28th
Open Saturday-Thursday, 3-10pm