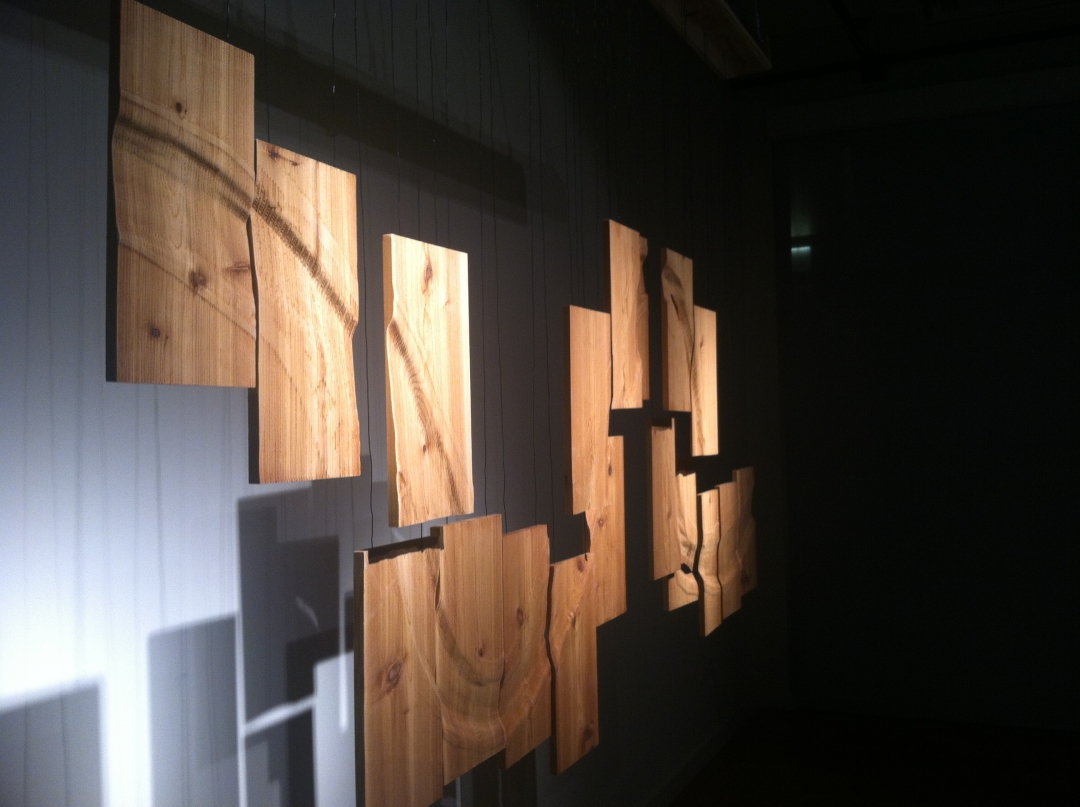 ISEA Conference
Reverberance
As part of ISEA 2014, Reverberance revolves around the conference's general theme of "location" by highlighting afterimages, traces, and reverberations expressed in electronic art.
Each of the included works leverages the notion of movement through space and time. The forms and media used in each of the works vary, but they all share the expression of memory tied to a place at a particular moment.
Whether it is in the form of sound, image or a captured body by sophisticated software, each of these works engages with the history of bodies moving through space, documenting them and focusing our attention in ways that can be surprising and enlightening. While there is not an expressly technical component of these works, they are all realized with the assistance of digital tools. The democratization of these tools allows the artists to capture, examine and manipulate raw information to create relevant and meaningful works that illustrate our past, while pointing to a future.
Reverberance is the inaugural show in the Project Room on New York University's Saadiyat campus.
Nov 2-13, 2014: Sunday – Thursday, 3-5 PM
Nov 6, 2014: 1-8 PM
Peter Beyls' WindChime is a web-driven installation, projecting real-time wind patterns progressing throughout the globe. Aural and visual elements create a synthetic sensorial experience: non-linear digital sound and an interactive, dynamic particle generator underlies the essential unpredictability of systems, both natural and artificial.
Peter Beyls, is a Belgian-born artist and composer who has been working with computer media since the 1970s. He explores computer programming as a medium for artistic expression and develops generative systems in music, the visual arts and hybrid forms. Beyls published extensively on various aspects of digital media and, in particular, on the application of Artificial Intelligence. He currently teaches Theory and History of Media Art at the School of Arts, University College Ghent. Beyls also coordinates research at the KASK Interaction Lab and is a researcher at the Centre for Research in Science, Technology and the Arts, UC Porto, Portugal. His was awarded a PhD in Computer Science from the University of Plymouth, UK for his research in evolutionary computing applied to real-time interactive music systems. His work was widely exhibited and performed at conferences like Siggraph, ICMC, Imagina, ISCM and Generative Arts.
42, by Khadija Fikri, juxtaposes the changes of the Dubai landscape over a timeframe of 50 years by interleaving images from the past and present.
Khadija Fikri is an Emirati artist who lives and works in Sharjah, UAE. Her artistic practice focuses on the UAE by either documenting old buildings or by creating digitally manipulated photos. In June 2012 she earned her Bachelors of Arts degree (with honors) in Fine Arts from University of Sharjah. Her artworks were featured in several group exhibitions such as Altawasul 5 organized by Emirates Fine Art Society, Sharjah (2014); Vantage point Sharjah, Sharjah (2013); Sharjah Heritage Days, Italy (2012); Emirates Fine Art Society 30th and Accumulation, an exhibition by Sharjah Museum of Islamic civilization in collaboration with The British Council, Sharjah, (2010); Annual Exhibition, Sharjah (2012); and at the Sikka Art Fair, Dubai (2011).
Matt Kenyon's Supermajor uses a stroboscopic effect to capture oil droplets in midair, transforming their movement in a way that seeming defies gravity.
Also by Kenyon, Notepad serves as a record of Iraqi civilian deaths over the first three years of the Iraqi War. Notepad 's interactive interface uses a traditional yellow legal notepad; engaging the viewer politically, and more importantly, aware with the feeling of recording these deaths on paper.
Matt Kenyon is an American artist, and Professor based in Ann Arbor, Michigan. He is one of the co-founders and the director of SWAMP (Studies of Work Atmosphere and Mass Production). SWAMP is an art practice focused on critical themes that address the effects of global corporate operations, mass media and communication, military-industrial complexes, and the liminal area between human and artificial life. The practice has participated in numerous collaborations with artists, architects, and technologists, including McLain Clutter, Tiago Rorke and Wafaa Bilal. Kenyon is also an Associate Professor in the School of Art and Design at the University of Michigan. His work has been exhibited internationally and collected by institutions including the Museum of Modern Art in New York. He has received a number of awards including the distinguished FILE Prix Lux Art prize.
The presented work by Fredrick (Derick) Ostrenko explores the relationships between interactivity online and sensorial aesthetical experiences. Humming Mississippi is a homage to the Mississippi River. Each wooden plank has been designed and carved according to the River's contours, and the audio composition is generated based on a linear reading of river topology.
Frederick (Derick) Ostrenko is a media artist and Professor based in Louisiana, USA. His interactive media installations have included brainwaves, data mining, live video processing, and electric shocks as interfaces for people to explore their identity and connect with other participants. He focuses on revealing hidden networks between people by creating structures for new kinds of expression and discovery. Ostrenko received his MFA in Digital+Media from the Rhode Island School of Design. He is now an Assistant Professor at Louisiana State University (LSU) with a joint-appointment at the School of Art and Center for Computation and Technology (CCT).
Kirk Woolford's Moments in Place challenges the relationship between performance, movement and location. It explores how artists and the public interact differently depending on the place they occupy. As a series of augmented reality virtual site-specific performances, the essence of the piece lies in the ties between public participation and the artist.
Kirk Woolford is an artist and Professor of Digital Arts, living and working in the United Kingdom. Wooldorf's research and publications are based on Interactive Media and Performance, Digital Culture, and Virtual Heritage. His past professional experiences include teaching and research positions in Media Arts, Design, Fine Art, and Choreography programs in the UK, Netherlands, Germany and the US. Woolford also has experience in starting and directing web development and video game production companies in New York, London, and Amsterdam. He is currently Reader (Professor) of Digital Media Arts at the University of Surrey where he researches applications of human movement and Digital Arts. Woolford has exhibited in Shanghai eArts, Casa da Musica, ARCO Madrid, Art Cologne, MoMA P.S.1., Venice Biennale, Ars Electronica, and SIGGRAPH.