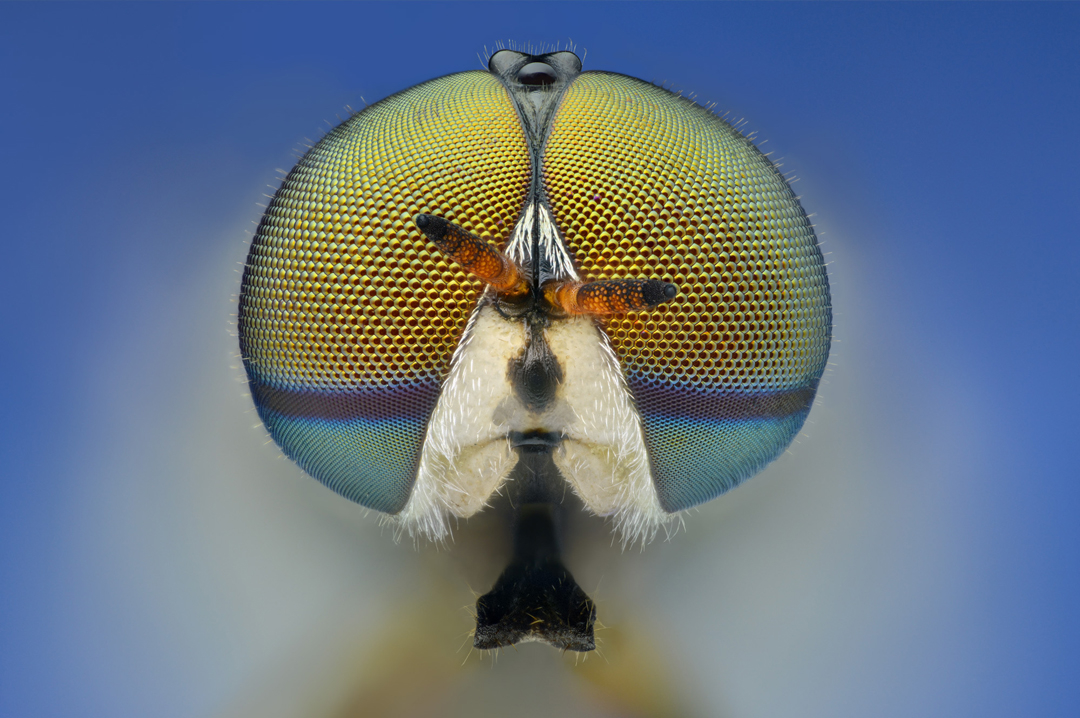 Yousef Al-Habshi
Little Monsters
The inspiration behind this exhibition came from a chance encounter between a biologist, Professor Claude Desplan from New York University Abu Dhabi (NYUAD), and Yousef Al-Habshi, a photographer who devotes much of his free time to taking pictures of insects in the UAE. Al-Habshi's work was recently published in National Geographic, in the Arab world edition.
Professor Desplan studies the visual system using the fruit fly Drosophila as a model system to perform genetic and molecular manipulations to analyze how the eye and the visual centers that process images are formed during development. Work from his lab has led to a deep understanding of eye patterning, including the distribution of photoreceptors sensitive to different colors of light. This distribution is most often stochastic (i.e. random) but in some species it is organized in stripes of different width and orientation.
Yousef Al-Habshi knows where to find insects in specific areas of the UAE and has a great ability to capture the beauty of the eye, as well as the entire insect. Al-Habshi admits that one of his goals is to demonstrate that the world of insects is full of beauty. With this in mind, he openly shares his remarkable images on Flickr.
During their research, Professor Desplan and his postdoctoral fellow Michael Perry discovered Al-Habshi's website and were pleased to learn he lives in Abu Dhabi, very close to where Professor Desplan teaches on the NYUAD campus. An initial meeting led to a collaboration, culminating with Little Monsters, an exhibition of Yousef Al-Habshi's work presented here in the Project Space at NYUAD.
The photographs of eye patterns displayed by Al-Habshi represent a wide variety of insects found in the UAE. As this is the primary focus of Pr. Desplan's research, the two continue to collaborate in identifying rare insects and visually documenting their unique eye patterns, ultimately leading toward publication in scientific journals.
Yousef Al-Habshi
Yousef Al-Habshi is an Emirati photographer specializing in "macro" and "micro" photography. He procured his first camera in 2010 and since that time gravitated toward macro photography.
Al-Habshi won numerous local and international awards, including many international gold medals. Most notably, he won first place for two consecutive years (2012 & 2013) at the Emirates International Photography Contest. His recent achievements include first place and a gold medal at the Sharjah Arabian Photo, macro division, and being honored by His Highness Sheikh Dr. Sultan bin Mohammed Al Qasimi, Ruler of Sharjah.
Al-Habshi has made available some of his images of insects and their parts to several foreign universities for the purpose of performing new scientific projects and specialized studies. He has also provided specialized studies students with a set of these works for the purpose of academic research and graduation projects.
National Geographic Al Arabiya Magazine, a major media platform, allocated 14 pages to his work, and following their publication, the magazine used his photographs as the main content for their 2016 calendar.
His photographs have been featured in several local newspapers, as well as specialized photography magazines around the world. Additionally, they've been published in magazines focused on spreading awareness about agricultural pests and their negative impact.
A special thanks to: Fabio Piano, Claude Desplan, Justin Blau, Mathias Wernet, Jayson T. Cabrera, The NYUAD Art Gallery team, Marin Devine, and The Project Space Advisory Committee.
This exhibition was made possible by: The Center for Genomics and Systems Biology from the NYUAD Institute
---
September 7 – October 8, 2016.
Saturday-Thursday, 3-10pm
Opening Reception:
Wednesday, September 7, 2016 from 6-8pm
free and open to the public.