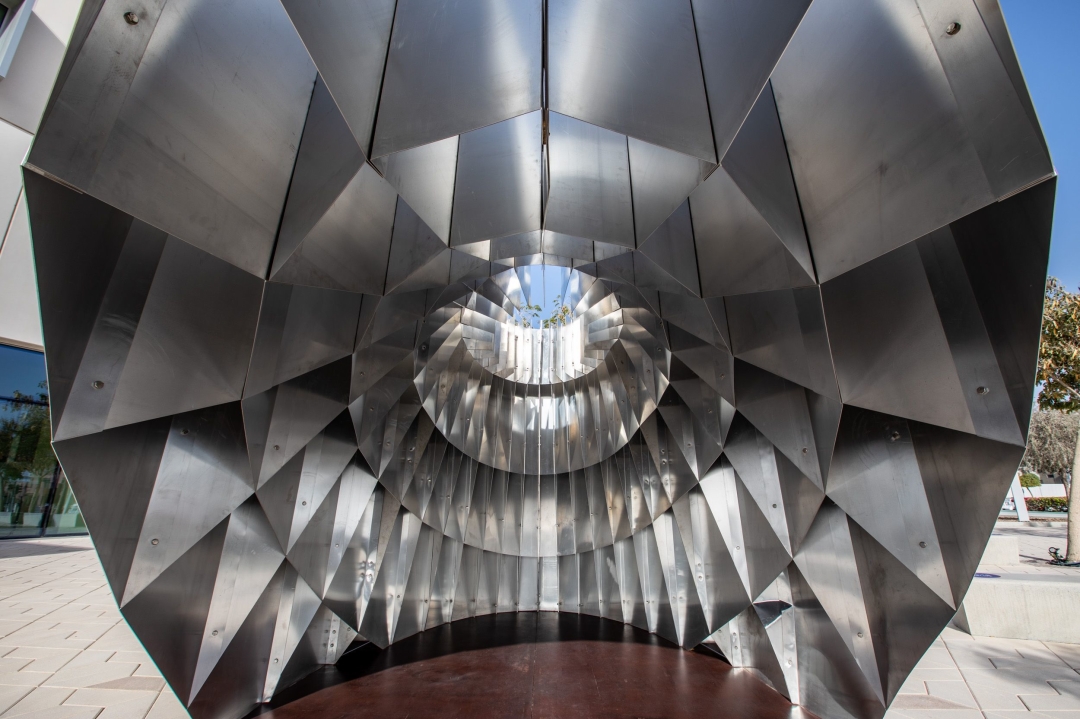 Christo Award Winner 2020: HAWEIA
by Laura AlDhahi, Sara Mohamed, Sahil Rattha Singh
Summary

A note from the artists about their work:

"Haweia" is an Arabic word for identity. This installation was inspired by creating overlapping and consecutive curves that converge at an oculus, which accentuates a focused moment in time and space and is oriented to frame different perspectives of the sky.

Under the patronage of Her Highness Sheikha Shamsa Bint Hamdan Al Nahyan, Wife of His Highness Sheikh Hamdan Bin Zayed Al Nahyan, The Christo & Jeanne-Claude Award 2020 is presented by New York University Abu Dhabi in partnership with Abu Dhabi Music & Arts Foundation.

Click to view the 3D Tour in daylight


Read the essay

From the Director of The Christo and Jeanne-Claude Award, Emily Doherty:

2020 has been a year of universal challenge. For our winning artist team, this has meant university campus closure, creating studios at home – sometimes internationally and apart from each other, communicating with the NYUAD Gallery team via Zoom, a delay in the public exhibition of their work and now the launch of their winning piece Haweia, in a virtual setting.

And yet to their great credit, these unusual circumstances have not deterred them. They have shown their mettle by leaning into the challenges and continuing to work remotely, intensively and with the support of their chosen mentor, Jason Carlow. Congratulations to them all.

In a further twist to the tale of 2020, we said a sad goodbye to Christo (1935 – 2020) himself; a profound loss to his family and friends, our Award community and of course, the wider world.

Christo and Jeanne-Claude's relationship with the United Arab Emirates spanned forty years and it was Christo's desire to support the emerging arts scene in 2012 that resulted in the creation of an Award in his name. In his eighties by then, he attended every unveiling of winning work until the year of his death. He met with winners, chatted over dinner, regaled those lucky enough to be within ear shot with wonderful tales of Marcel Duchamp and Andy Warhol in sixties New York and if it was a year in which he had a live project – Big Air Package, Germany (2013); The Floating Piers, Italy (2016); The London Mastaba (2018) – the winners would be invited to join him for a private tour. Bearing in mind that in its 16 day existence, The Floating Piers received 1.5 million visitors, this was an incredible privilege.

Christo sought to encourage a new generation of artists to find inspiration in creativity and bring joy to others, although it might be said that his true legacy was one of tenacity: in the pursuit of his vision, he never gave up – often over the the course of many years and in the face of profound opposition – and in the context of the past year, this will chime with many.

In every Award year since 2012, I seek to thank those who have made this project possible – often in a speech at the official unveiling of work on campus at NYUAD. In a year in which the arts, globally, have been suffocated by COVID-19, efforts to create forums for creative work have become essential. Portals for artists are antidotes to the monotony of lockdown, border closures and cultural suppression and as such I'd like to champion our teams of enablers here.
Thank you, very much to:

H.E. Huda I. AlKhamis-Kanoo, Abdallah Haidar, and Georgia Chambers at the Abu Dhabi Music and Arts Foundation. Maya Allison, Tala Nassar, Hala Saleh, Kimberly Moinette, Tyler Lewis, Sebastian Grube, Alaa Edris, Melroy D'Souza, and Maisoon Mubarak at New York University Abu Dhabi. And, of course, to dearest Christo.