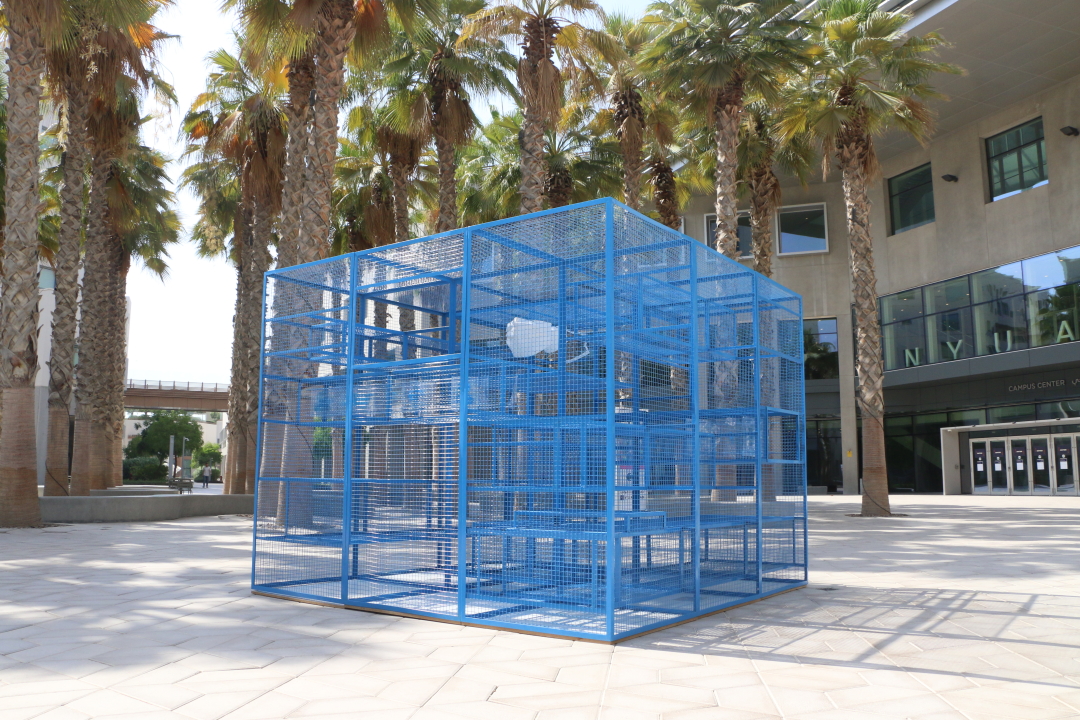 Christo Award Winner 2021: COCOON
by Nour Elbery, Marawan Mahmoud, and Rashid Modibbo
Summary

Under the patronage of Her Highness Sheikha Shamsa Bint Hamdan Al Nahyan, Wife of His Highness Sheikh Hamdan Bin Zayed Al Nahyan, The Christo & Jeanne-Claude Award 2021 is presented by New York University Abu Dhabi in partnership with Abu Dhabi Music & Arts Foundation.

A note from the artists about their work:

Cocoon is a series of boxes nestled within each other; a steel cage-like mesh façade. The viewer cannot enter the space but can see inside: similar to observing the human state during quarantine and restrictions. The color blue reflects the most prominent color we have seen throughout these times: the mask's color, detergent, and hygiene. The project aims to highlight our collective vulnerability in the face of a primal menace; It vivifies the shared experience of the pandemic using the ubiquitous banality of the objects that have come to represent our plight and our hubris. Cocoon seeks to materialize the feelings of entrapment and isolation, a container for reality and reflective of our different pandemic experiences.

About the artists:

Marawan Mahmoud, Nour Elbery, and Rashid Modibbo are recent architecture graduates of the American University of Sharjah. The trio met in 2017 during their freshman year of college and became good friends, sharing interests and diatomic ideas regarding art, philosophy, and architecture.

Read the essay

From the Director of The Christo and Jeanne-Claude Award, Emily Doherty:

Christo and Jeanne-Claude's artwork is enduring. It transcends people, borders, nations, time and with the realization of L'Arc de Triomphe Wrapped (Paris 1961-2021), it transcends their lifetimes. It might be said that dear Christo's legacy is one of tenacity: in the pursuit of his vision he was persistent, courageous and committed – often over the course of many years and in the face of profound opposition. In tempestuous times, we look to those who inspire us.

In 2020, we championed Award winners who were asked to step up and become the first of many generations to make art during a global pandemic. In 2021, the working requirements for artistic endeavor are still apposite: collaboration across emirates and sometimes countries, demands not just artistic vision and skill, but strength of character, bravery and that all important tenacity. The Christo and Jeanne-Claude Award congratulates winning artists 2021: Nour Elbery, Marawan Mahmoud, and Rashid Modibbo.

Christo and Jeanne-Claude's relationship with the United Arab Emirates spanned forty years and it was Christo's desire to support the emerging arts scene in 2012 that resulted in the creation of an Award in his name. He attended every unveiling of winning work from 2012 to 2019 and we are delighted that in 2022, his hopeful contribution to this country's young artists continues to be realized through the unveiling of Cocoon.

In every Award year since 2013, we seek to acknowledge those who are the lifeforce behind the project. We would like to sincerely thank Her Highness Sheikha Shamsa bint Hamdan Al Nahyan for her ongoing and invaluable patronage, Her Excellency Hoda Al Khamis Kanoo, Abu Dhabi Music & Arts Foundation, Maya Allison and her dedicated team at NYU Abu Dhabi – Wafa Jadallah, Alaa Edris, Hala Saleh, Melroy D'Souza, Sebastian Grube, Sonali Shirodkar, Tala Nassar, Metha Naser Alsaeedi, Marty Ackley, and Maisoon Mubarak. We also thank Abdallah Haidar at The Abu Dhabi Music & Arts Foundation, and our winning artists' chosen mentor, Professor Gregory Watson at the American University of Sharjah.