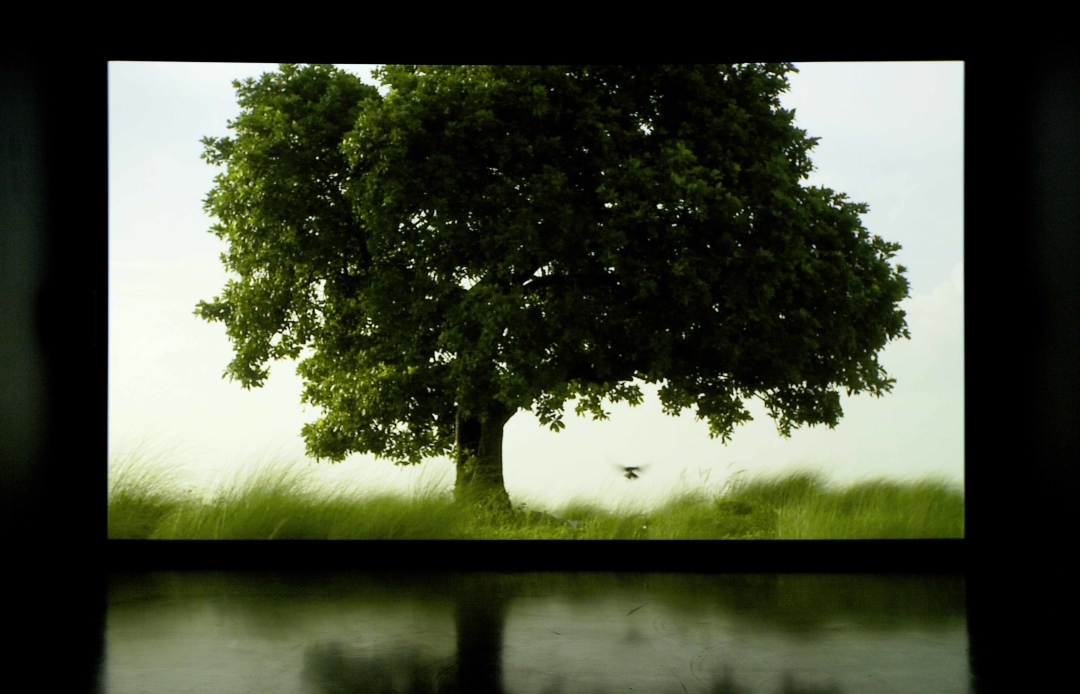 Amar Kanwar
The Sovereign Forest
in collaboration with Sudhir Pattnaik/Samadrusti and Sherna Dastur
The Sovereign Forest is an ongoing multimedia installation that is a creative response to crime, politics, human rights, and ecological crisis. It evolved out of the political and environmental conflict in the resource-rich, and largely tribal Indian state of Odisha. Kanwar has been observing and documenting the industrial interventions that have irrevocably altered Odisha's landscape for more than a decade. The Sovereign Forest is a long-term commitment of the artist with media activist Sudhir Pattnaik, and designer and filmmaker Sherna Dastur.
In parallel with this exhibition, Amar Kanwar's Such a Morning will be on view at Ishara Art Foundation in Dubai (details below, and in the press release link at right).
Multiple works make up The Sovereign Forest, which has appeared in different iterations. At its core are two films: The Scene of the Crime (2011), a film that documents landscapes selected for industrial development prior to their obliteration, and A Love Story (2010), about the experience of that loss. The installation will include three large handmade books, The Counting Sisters and Other Stories (2011), The Prediction (1991–2012), and The Constitution (2012) with their own films projected on its pages. Containing local fables, stories of the incarcerated, and pieces of "evidence" such as a fishing net, a cloth garment, rice seeds, a betel leaf, and newspaper embedded inside the paper, visitors are encouraged to turn the pages and read these stories.
This exhibition is produced with the support of Samadrusti, Odisha; Thyssen-Bornemisza Art Contemporary, Vienna; Centre Pompidou, Paris; Yorkshire Sculpture Park, UK; documenta 13, Kassel; and Public Press, New Delhi.
---
Kanwar has distinguished himself through films and multi-media works, which explore the politics of power, violence, and justice. Recent solo exhibitions have been at Museo Nacional Thyssen-Bornemisza, Madrid and Marian Goodman Gallery, Paris (2019), Tate Modern, London (2018), Bildmuseet, Umea, Sweden (2017), Goethe Institut Mumbai and NTU CCA Singapore (2016), Assam State Museum, India (2015). In 2013 and 2014 at the Art Institute of Chicago; Yorkshire Sculpture Park; TBA 21, Vienna and at Fotomuseum Winterthur, Switzerland (2012).
Kanwar has also participated in documenta 11, 12, 13, and 14 in Kassel, Germany (2002, 2007, 2012, 2017). Other solo exhibitions have been at Stedelijk Museum, Amsterdam (2008), Whitechapel Art Gallery, London (2007), National Museum of Art, Architecture and Design, Oslo (2006) and the Renaissance Society, Chicago (2004). Kanwar has been the recipient of awards such as the Prince Claus Award (2017); Annenberg / Creative Time Prize for Art and Social Change (2014); Honorary Doctorate in Fine Arts, Maine College of Art, USA (2006); Edvard Munch Award for Contemporary Art, Norway (2005); Golden Gate Award, San Francisco International Film Festival, USA (1999), Golden Conch, Mumbai International Film Festival, India (1998).
---
Ishara Art Foundation is a new non-profit organisation focused on contemporary art from a South Asian context. We have an expansive definition of the region, which includes the diaspora and overlapping histories of the region around India, Pakistan, Bangladesh, Sri Lanka and Nepal. Given the multiple links to South Asia within the Gulf, our programme is anchored in a regional approach and designed to share compelling artistic perspectives with local and international audiences. Our programme presents new and established practices through exhibitions and commissions which develop new dialogues and explore regional interconnections. Guided by a research-led approach, Ishara supports the participation of South Asian voices within the lively art, culture and design community of the UAE.
Ishara Art Foundation is presented in partnership with Alserkal Avenue.
Open daily 12-8pm, except Sundays.