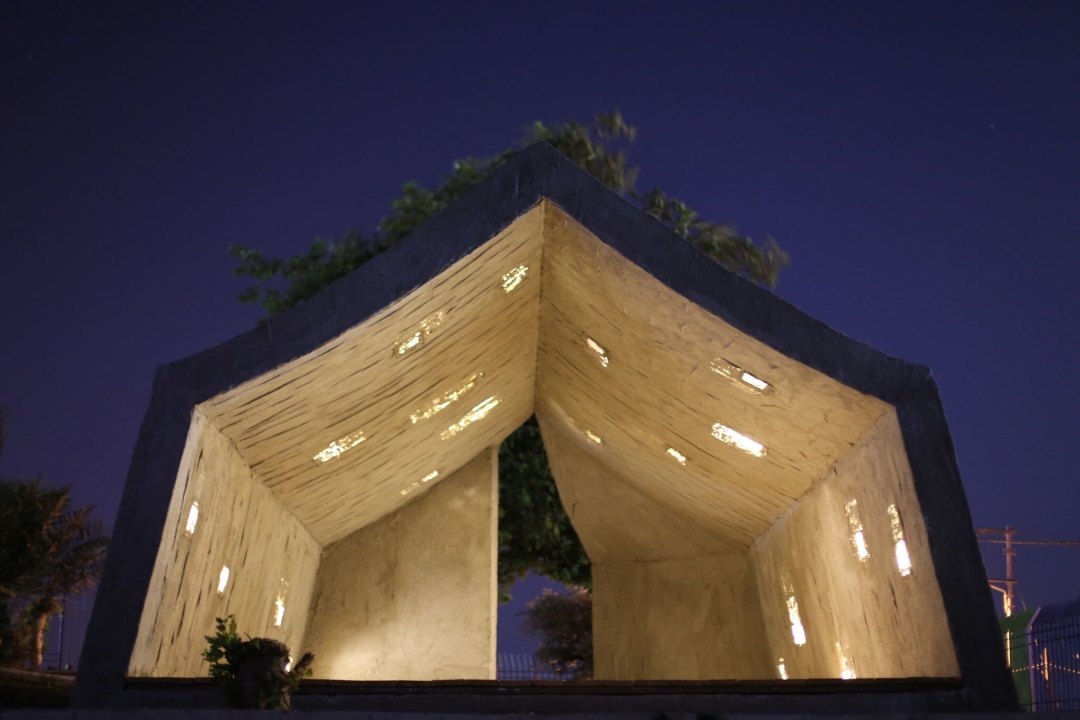 Permanent Temporariness:
Sandi Hilal and Alessandro Petti
The NYU Abu Dhabi (NYUAD) Art Gallery presents the first institutional retrospective of the artists and architects Sandi Hilal and Alessandro Petti. Throughout their work, the duo explores the state of "refugeeness," a condition meant to be temporary, but that has become permanent for many populations. Their project departs from the traditional reduction of refugees to victims and instead employs a wider interrogation of the present condition of impermanence and displacement affecting a vast number of people living as guests in host countries. Their artwork lies between conceptual speculation and an artistic practice. It is based on spatial interventions in art, architecture, discourse, research, and communal learning, often operating outside the typical art exhibition venue format.
Collaboration is central to the artists' practice, a process of letting go of a singular artistic agency, and opening conceptual speculations to the community through an on-going conversation. Over the past fifteen years, the artists have conducted dozens of theoretical and pedagogical dialogues, developing a practice that examines displacement, migration, and cultural heritage. They continue to study the decolonization of the architecture of urban spaces under occupation, as well as civic representation and identity in the absence of a nation-state. They founded Campus in Camps, and, with Eyal Weizman, co-founded DAAR (Decolonizing Architecture Art Residency).
Permanent Temporariness is guest-curated by NYUAD faculty Salwa Mikdadi, who is among the foremost historians of modern art from the Arab world. It is co-curated by Bana Kattan, NYUAD Art Gallery Curator, who recently co-curated the exhibition Invisible Threads: Technology and its Discontents (NYUAD).
The exhibition will feature seven installations, three of which are beyond the gallery walls. It reactivates five of their signature installations to date: The Concrete Tent, Common Assembly, Ramallah Syndrome, The Book of Exile, and The Tree School.
Two artworks were developed specifically for this show, from the artists' current research projects. Living Room is a performance piece arising out of Hilal's work with a Syrian refugee couple who became active hosts in their refugee camp living room in Boden, Sweden. In her hosting performance, Hilal activates our awareness of what they call "the right to host." Refugee Heritage is a series of lightbox-mounted photographs taken by a UNESCO photographer Luca Capuano at one of the world's oldest refugee camps, Dheisheh camp in Bethlehem. Over the last two years, Hilal and Petti led a series of discussions in both refugee camps and elsewhere, on the implications of inscribing refugee history and heritage on the UNESCO World Heritage List. The nomination dossier was published in 2016 in e-flux.
"In Permanent Temporariness, Hilal and Petti present conceptual speculations that examine the state of impermanence and 'refugee-ness' beyond victimhood and beyond charitable gestures," said co-curator Salwa Mikdadi. "They offer the audience new ways of engaging with this critical and timely topic. I am delighted to be working with them again, having presented their work at the Venice Biennial almost a decade ago."
Petti and Hilal have shown at the Venice and Istanbul Biennales, as well as museums including The Tate, London and the Centre Pompidou, Paris.
They have received multiple awards and grants, including the Keith Haring Fellowship in Art and Activism at Bard College, Loeb Fellowship Harvard University, Price Claus Prize for Architecture, they were shortlisted for Visible Award, the Curry Stone Design Price, the New School's Vera List Center Prize for Art and Politics, the Anni and Heinrich Sussmann Artist Award, and the Chrnikov Prize . They are recipients of the Foundation for Art initiatives grant.
---
This exhibition is co-curated by NYUAD faculty Salwa Mikdadi and Gallery Curator Bana Kattan.
Guest curator Salwa Mikdadi has curated numerous exhibitions, including the first Palestinian Exhibition for the 53rd Venice Biennia, 2009. She is the author and editor of several books and catalogues, among them: Elias Zayat: Cities and Legends (2017), Palestine c/o Venice (2009), New Visions: Arab Contemporary Art of the 21st Century, co-editor (2009), Visual Reflections on Arabic Poetry (1997), In/Visible: Arab American Artists (2005), and the reference guide on the history of twentieth-century art of West Asia, N. Africa and Egypt for the Metropolitan Museum of Art Timeline of Art History (2005).
Public Talk: February 24th, 5:30-6:30pm[RSVP here]
Immediately following the public talk, join us for the
Opening Reception: February 24th, 6:30-8:00pm
Book Discussion: Walid Shurafa, Monday April 23rd, 6:30-8:00pm. RSVP here for this event.
Artist Talk: Tania El Khoury, Saturday April 28th, 6:30-8:00pm. Register here to attend this event
Film Screening: A World Not Ours by Mahdi Fleifel,
Wednesday May 9th, 7:30pm-9:30pm. RSVP here for this screening.
Exhibition Tour: Wednesday May 9th, 6pm.
Ramadan Program: Short film showcase, exhibition tours, and Suhoor. Wednesday, May 23rd, 9pm. Registration for this event opens Sunday May 20th.
---
Listen to the artists talk about their work:
Refugee Heritage

Common Assembly

Mujawara/The Tree School

Ramallah Syndrome

The Living Room

The Book of Exile

The Concrete Tent