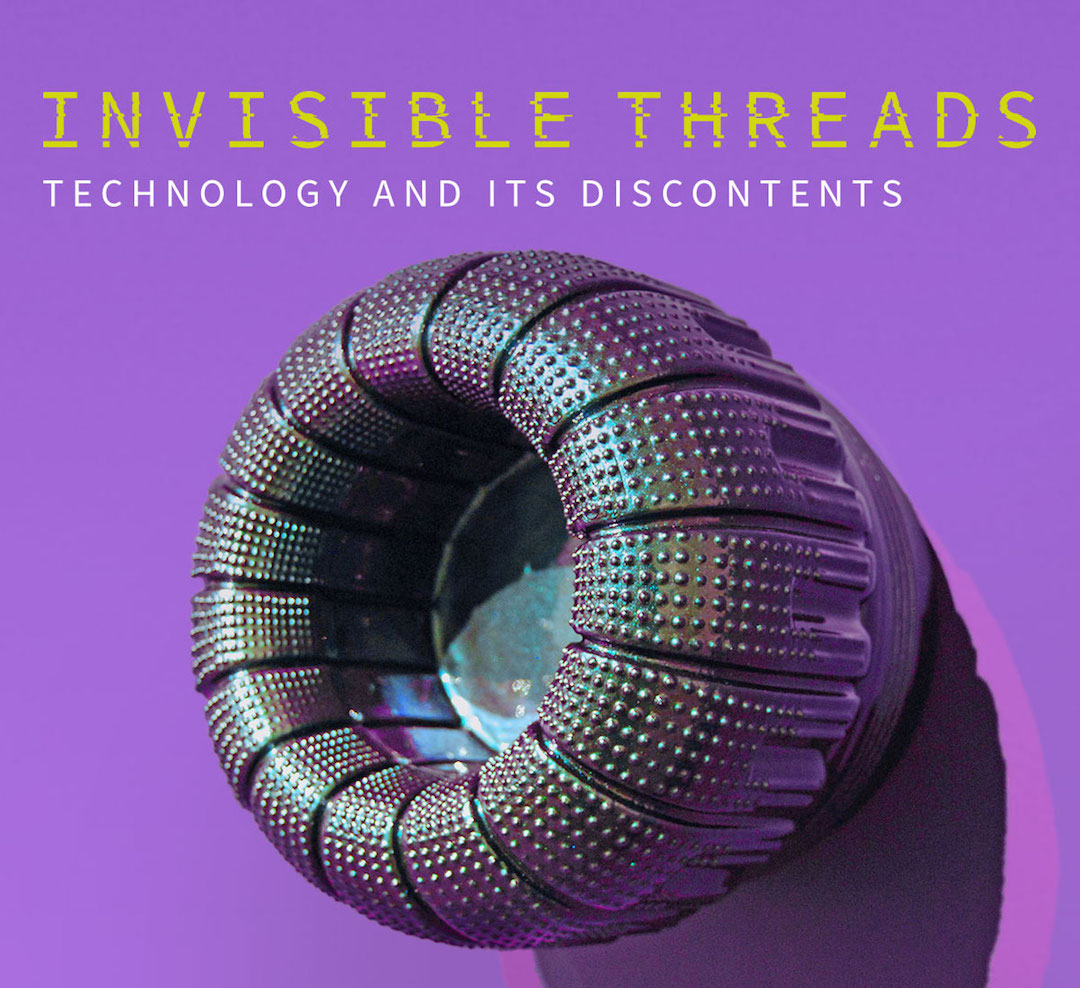 Invisible Threads
Technology and its Discontents
Artists: Ai Weiwei, Jamie Allen, Aram Bartholl, Taysir Batniji, Wafaa Bilal, Liu Bolin, Jonah Brucker-Cohen, Heather Dewey-Hagborg, Michael Joaquin Grey, Monira Al Qadiri, Evan Roth, Phillip Stearns, Siebren Versteeg, Addie Wagenknecht, Kenny Wong.
NOTE: The Gallery will be closed as of 5pm on Thursday, December 22, and reopening on Monday, January 2nd at 12pm, resuming normal hours through January 7, 2017.
**
This exhibition explores the tensions that emerge in our everyday relationships with technology, looking at such issues as isolation vs. connectedness, and privacy vs. social media.
The information age has given us modes and means of communication unrivaled in history, ranging from smartphones and social media to electronic financial and other transactions. Yet these same tools also generate anxiety about a user's exposure via these modes, whether to risk of hackers or from technology's effect on our environment.
Invisible Threads will present a nuanced discussion of a global topic, framed by the region's complex relationship to the benefits and pitfalls that accompany technological advances. The artworks expose these institutional and aesthetic frameworks of control, pulling back the curtain on a part of our lives that we have come to take for granted. The curators hope to generate dialog and reflection around our use of these everyday tools.
Notably, Invisible Threads inaugurates one of NYU Abu Dhabi Art Gallery's unique program strategies: inviting scholars and specialists from across the academic spectrum to guest-curate a major exhibition. Invisible Threads is co-curated by Professor Scott Fitzgerald, Program Head of Interactive Media at NYU Abu Dhabi, with Bana Kattan, a Curator at the NYUAD Art Gallery.
Co-curator Bana Kattan commented: "From the Industrial Revolution, to the dawn of space travel, and the creation of the internet, technological revolutions have had profound impacts on the arts. This universal theme is especially relevant in the UAE, a country that is home to extraordinary state-level technological innovations, as well as a remarkably tech-savvy, connected population. In keeping with the NYUAD Art Gallery's mission to produce exhibitions that are both internationally significant and locally relevant, this exhibit showcases some of the most interesting artwork being made today around the topic of the individual's experience with technology. I am honored to be bringing this theme to the forefront of the UAE art scene with the expertise of my co-curator, Professor Fitzgerald, without whom this project would not have been possible."
Co-Curator Professor Scott Fitzgerald said: "The ways we treat and use technology are central to my practice and teaching. This show is an exciting opportunity for me to work through these ideas in a new context. The artists in the show represent a spectrum of established and emerging talents who offer a broad and critical look at the way we have enshrined these tools in practically every aspect of our lives. Collectively, they help present a past, present, and future of our evolving relationship with technologies."
Built on the proposition that interaction with global ideas is beneficial to the society that sustains it, the NYUAD Art Gallery continues to push boundaries with curatorial premises that confront contemporary social themes. With Invisible Threads, as with previous shows such as the Slavs and Tatars' Mirrors for Princes: Both Sides of the Tongue, the Art Gallery aims to foster curiosity and critical reflection in the growing arts audience of the UAE.
Invisible Threads will be complemented by a full public program of events and talks for all ages.
Press contact:
Maisoon Mubarak/Danielle DeMartini
Brunswick Arts
Tel: +971 56 507 3016/+971 56 503 4852
E: NYUADAG@brunswickgroup.com
Follow NYU Abu Dhabi Art Gallery on social media channels @nyuadartgallery
About the Curators
Bana Kattan is a curator at the New York University Abu Dhabi Art Gallery and the manager of the NYUAD Project Space (http://nyuad-artgallery.org/en_US/arts-center-project-space/). During her graduate work at the School of the Art Institute of Chicago, she worked with the Performance Department at the Museum of Contemporary Art Chicago and the Curatorial Department of the Guggenheim- Abu Dhabi Project in New York. She also worked as a project manager for artist Michael Rakowitz. Kattan was one of the 2015 recipients of the Getty-CAA International Program Grants. She is born and raised in Abu Dhabi, United Arab Emirates.
Scott Fitzgerald is a media artist whose work has been performed and exhibited throughout the USA, Europe, and Asia. His work explores the transition between the physical and digital world, using new technologies as expressive tools. In addition to his artwork, Scott runs a variety of workshops, including physical interaction design, projection mapping, and interactive lighting. Currently an Assistant Art Professor and the Program Head of Interactive Media at NYU Abu Dhabi, he was previously the head of documentation for Arduino, an open hardware platform created for artists and designers.
Ai Weiwei (b. Beijing, China, 1957) is a conceptual artist who positions himself in and out of his Beijing studio as a cultural arbiter. Compelled by a sense of social conscience, his artistic practice extends across many roles, from filmmaker and photographer, to writer, publisher, curator and architect.
As an heir to Marcel Duchamp and Andy Warhol, yet digging deep into Chinese heritage, he moves freely between a variety of formal languages, reflecting on contemporary geopolitics. In recycling historical materials, loaded with meaning, such as Han Dynasty vases or wood from destroyed temples, Ai distills ancient and modern aesthetics in works of salvage or iconoclasm. Public commissions, like bringing 1,001 Chinese citizens to the small German town of Kassel for documenta 12 (Fairytale, 2007), or the pouring of hundreds of millions of handmade porcelain seeds into the Tate's Turbine Hall (Sunflower Seeds, 2010), are audacious gestures that command global attention, but always underlain with humor and compassion.
Ai Weiwei was born in 1957 in Beijing where he lives and works. He attended Beijing Film Academy and later, on moving to New York (1981–1993), continued his studies at the Parsons School of Design. Major solo exhibitions include Royal Academy (2015), Martin Gropius Bau (2014), Indianapolis Museum of Art (2013), Hirshhorn Museum and Sculpture Garden, Washington D.C. (2012), Taipei Fine Arts Museum, Taiwan (2011), Tate Modern, London (2010) and Haus der Kunst, Munich (2009). Architectural collaborations include the 2012 Serpentine Pavilion and the 2008 Beijing Olympic Stadium, with Herzog and de Meuron.
Jamie Allen (b. Ontario, Canada, 1976) is an artist-researcher, who trained and worked a polymer chemistry engineer in Canada, the UK and U.S.
His work examines the physical relationships present amongst people afforded by technology, and between people and media. Allen writes and creates art, media, music and performance and is interested in the way creative uses of technology inform the sense of who we are and how we know. In his 2012 piece, I Love the Internet and the Internet Loves Me, Allen uses a loudspeaker to broadcast his own public-private relationships gleaned from his Facebook feed, out into the "real world."
He has worked with a host of international arts institutions, including Eyebeam.org, NYC; Society des Arts Technologiques, Montreal; Vertexlist, NYC; The Edinburgh Festival, UK; The Glasgow School of Art, UK; Neue Nationalgalerie, Berlin. He holds a PhD (summa cum laude) in Philosophy, Art and Critical Thought from the European Graduate School and works as Senior Researcher at the Critical Media Lab, Basel.
Aram Bartholl (b. Bremen, Germany, 1972) is a Berlin based conceptual artist. He graduated from Berlin University of the Arts with an Engineering degree in Architecture. His graduate thesis Bits on Location won the 2001 Browserday competition.
Bartholl focuses his work on the interplay between internet, culture and reality. His public interventions and installations straddle the digital world and everyday life. As with his seminal work, Dead Drops (2010), an interactive piece in which the audience-user is invited to access or exchange private data via usb drive, which is physically embedded in a public and freely accessible building or structure.
Bartholl has had solo shows in Babycastles, New York; DAM Gallery, Berlin; Kasseler Kunstverein, Germany; xpo gallery, Paris; Aksioma, Ljubljana. In collaboration, Bartholl has exhibited at Kunstverein Arnsberg, Germany; the Museum of Modern Art, New York; The Pace Gallery, New York and Hayward Gallery, London.
Taysir Batniji (b. Gaza, Palestine, 1966) studied art at Al-Najah University in Nablus, received a DNSEP (Higher National Diploma in Plastic Expression) from Ecole des Beaux-Arts, Bourges, France, a Graduate Degree in Fine arts from University Paris 8, and engaged in post-degree study at the National Fine Arts School of Marseille.
His practice encompasses photography, video, sculptural installations, and performance works. In his work, Taysir reflects on "Palestinianness", in particular, its relationship to time, incorporating themes of displacement, disappearance, and illusion.
Batniji has participated in numerous international exhibitions, including Untitled, 12th Istanbul Biennial; Future of a Promise, a collateral event of the 54th Venice Biennale; Seeing is Believing, KW Institute for Contemporary Art, Berlin; and RAY 2012 Fotografieprojekte Frankfurt/Rhein-Main. His artworks are regularly exhibited internationally, his latest solo shows took place in André Malraux Art Space, Colmar, France; Galerie Sfeir Semler, Beirut, Lebanon; Espace Robet de Lamanon, Salon de Provence, France, and Gallery Sfeir Semler, Hamburg, Germany.
Taysir Batniji currently divides his time between Palestine and France.
Wafaa Bilal (b. Kufa, Iraq, 1966) is an Iraqi-American artist and an Associate Arts Professor at Tisch School of the Arts, NYU

in New York City. He holds a BFA from the University of New Mexico and received his MFA in Art and Technology from the School of the Art Institute of Chicago.
Bilal's work is informed by "simultaneously existing in two worlds: his home in the 'comfort zone' of the U.S. and his consciousness of the 'conflict zone' in Iraq." His installations are performative and interactive, often using his own body as his medium, and aim to provoke dialogue about international politics as well as internal dynamics. In his performance piece Domestic Tension (2007), he invited internet patrons to shoot at him with a remotely controlled paintball gun during a month- long stay at the FlatFile Galleries in Chicago.
Bilal has had solo shows at the Art Gallery of Windsor, Windsor; Driscoll Babcock Galleries, New York; Linfield Gallery, Oregon; Doris McCarthy Gallery, Toronto; David Winton Bell Gallery, Rhode Island; Maraya Art Park, Sharjah; Aksioma Institute for Contemporary Art, Ljubljana.
Bilal was named 2008's Artist of the Year by the Chicago Tribune, and his recent work, Canto III, was premiered in a solo booth at the New York Armory Show and subsequently exhibited in the 2015 Venice Biennale. His work can be found in the permanent collections of the Los Angeles County Museum of Art, Los Angeles, CA; Museum of Contemporary Photography, Chicago, IL; and MATHAF: Arab Museum of Modern Art, Doha, Qatar; amongst others.
Liu Bolin (b. Shandong, China, 1973), is a Beijing-based artist and photographer. He attended the Shandong Academy of Fine Arts earning his degree in 1995 and later studied sculpture at the Central Academy of Fine Arts in Beijing, where he received his MFA.
Liu has been called "The Invisible Man," a reference to his "camouflage" installations in which he immerses himself. His work examines the tense relationship between the individual and his society. The environments in his country into which he "disappears" are fraught with contention, and his work represents a convergence of performance, photography and social activism. As with his Hiding in the City series (2005- 2013), Bolin's "invisibility" serves to focus attention on a subject and thus become a form of silent protest.
Liu's solo exhibitions include the Dennos Museum, Traverse City, MI; Cyrus M. Running Gallery, Concordia College, Moorhead, MN; Fondation d'Entreprise Espace Écureuil Pour l'Art Contemporain, France; Brattleboro Museum and Art Center, Brattleboro, VT; Pingyao International Photography Festival, Pingyao, China; Museo H.C. Andersen, Galleria Nazionale d'Arte Moderna, Rome, Italy; Ekaterina Cultural Foundation, Moscow, Russia; Fotografiska Museet, Stockholm, Sweden; Forma Centro Internazionale DI Fotografia, Milano, Italy; and Museo de Bellas Artes, Caracas, Venezuela.
Jonah Brucker-Cohen (b. Washington D.C., 1975) is an Assistant Professor of Digital Media and Networked Culture at Lehman College/CUNY in New York City. He received his Masters from ITP, Tisch School of the Arts, NYU and his Ph.D. in the Disruptive Design Team of the Networking and Telecommunications Research Group (NTRG), Trinity College Dublin.
In his work, Brucker-Cohen challenges people's assumptions of what they perceive or take for granted, specifically examining the mass usage of computers and networks. He interrogates how networks integrate into existing architecture and social patterns outside of traditional computer interfaces, through bringing together people that might not have connected in a physical space.
His work has been exhibited at events and organizations such as DEAF; London Science Museum; Art Futura; Transmediale; Institute of Contemporary Art in London; Tate Modern; Whitney Museum of American Art's ArtPort; Ars Electronica; Museum of Contemporary Canadian Art; Chelsea Art Museum; ZKM Museum of Contemporary Art; Museum of Modern Art, New York; San Francisco Museum of Modern Art, and Palais Du Tokyo, Paris.
Brucker-Cohen is the Executive Vice President of Lively Event, Inc. that focuses on creating engaging displays for public interaction through mobile devices. He is also the co-founder of the Dublin Art and Technology Association, and a recipient of the ARANEUM Prize sponsored by the Spanish Ministry of Art, Science and Technology and Fundacion ARCO. In 2006 and 2008 he was a nominee for the Rockefeller Foundation New Media Fellow, and served as the Art Gallery chair for the SIGGRAPH 2016 Art Gallery in Anaheim, California.
Heather Dewey-Hagborg (b. Philadelphia, PA, 1982) is a trans-disciplinary artist and educator. She holds a B.A. in Information Arts from Bennington College and a Master of Professional Studies degree from ITP, Tisch School of the Arts, NYU.
Dewey-Hagborg works with dual strands of art and science to focus our attention on conceptions of the natural and the artificial. Drawing from diverse fields including biology, computation, sculpture, and critical design, she engages in art as practice based research exploring the hidden structures of media, technology, and science that frame our cultural imagination.
Her controversial work Stranger Visions (2012–2014) uses left behind, anonymous DNA as a starting point for the creation of lifelike, computer generated 3-D portraits, based on the captured samples.
Dewey-Hagborg has exhibited internationally at: the World Economic Forum, Shenzhen Urbanism and Architecture Bienniale; Poland Mediations Bienniale, Norway; Article Bienniale; Ars Electronica; Transmediale; Centre de Cultura Contemporània de Barcelona; the Science Gallery, Dublin, MoMA PS1, New York; and the New Museum, and Eyebeam Art and Technology Center, New York.
Heather Dewey-Hagborg is currently a Ph.D. candidate in Electronic Arts at Rensselaer Polytechnic Institute in Troy, New York.
Michael Joaquin Grey (b. Los Angeles, CA, 1961), is an artist, educator and toy inventor living and working in San Francisco. He holds a BS in Genetics and a BA in Practice of Art from Berkeley, with an MFA in Sculpture from Yale.
Grey's work centers on materializing complex natural phenomena and culture and the study of the intermediate states of change in behaviour, matter, meaning and the pattern of their consequences. Grey is the creator of Zoob, a pedagogical "building-block" children's toy which models the anatomy and chemistry of the human body.
Michael Joaquin Grey has exhibited at MoMA PS1, New York and his most recent solo show was for the Gemäldegalerie, Berlin. He has also shown with Barbara Gladstone, New York; Lisson Gallery, London and Stuart Regan Gallery, Los Angeles. Group exhibitions include MoMA, New York; Walker Art Center, Minneapolis; Sundance Film Festival and the Los Angeles Museum of Contemporary Art. Grey has work in collections at MoMA New York; the Museum of Contemporary Art, Los Angeles; Centro Cultural d'Arte Contemporaneo, Mexico and the New Art Trust.
Monira Al Qadiri (b. Dakar, Senegal, 1983) is a Kuwaiti visual artist born in Senegal and educated in Japan. She received her Ph.D. in inter-media art from Tokyo University of the Arts in 2010.
Through the use of self-portraiture and symbols of masculinity, Al Qadiri explores the psychological tension of being female in a male-dominated society. Another recurring motif in her practice is the dissolution of cultural or religious identity. Incorporating folkloric and historical references in her work, she reflects on the slow disappearance of a shared culture.
Al Qadiri's solo exhibitions include shows at the Sultan Gallery, Kuwait; and Tokyo Wonder Site, Japan. She has participated in collective international exhibitions in CCA Warsaw, Poland; Kunstverein Dusseldorf, Germany; Maraya Arts Center, Sharjah, UAE; Hong-Gah Museum, Taiwan; Edge of Arabia Projects, London; Beirut Art Center, Lebanon; Home Works 6, Beirut, Lebanon; Sultan Gallery Kuwait; Watermill Center, New York; Museum of Contemporary Art Tokyo Japan, Moscow Center of Contemporary Art and most recently the Sursock Musuem in Beirut Lebanon.
Al Qadiri is a founding member of the artist collective GCC, and is currently participating in a residency at the Rijksakademie in Amsterdam until 2018.
Evan Roth (b. Okemos, MI, 1978) is an American artist based in Paris. He received a degree in architecture from University of Maryland and received hisMFA from the Communication, Design and Technology program at Parsons The New School for Design.
In his practice, in which he applies a hacker philosophy, Roth explores the relationship between misuse and empowerment by visualizing and archiving popular culture through the unintended uses of its technologies. These are the basis of his piece Internet Landscapes (2016) in which he employs technology used by paranormal investigators – full spectrum photography, infrared video, and devices used to record electronic voice phenomena (EVP) – to document and present on-line, the mostly unseen infrastructure of the internet, such as underwater fiber-optic cables as they carry data. He invites the user to simultaneously view the physical internet cable and contribute to the data flowing through it.
Recent exhibitions include the 2016 Biennale of Sydney; Electronic Superhighway (2016—1966) at Whitechapel Gallery, London; and This Is for Everyone at the Museum of Modern Art, New York.
Roth is the co-founder of Graffiti Research Lab and the Free Art and Technology (F.A.T.) Lab.
Phillip Stearns (b. Austin, TX, 1982) works with electronics and electronic media art in Brooklyn, New York. He received his B.S. in Music Technology from the University of Colorado at Denver, and his MFA in Music Composition and Integrated Media from the California Institute of Arts (CalArts) in 2007.
In his practice of deconstruction, reconfiguration and extension are key methodologies and techniques in the production of audio visual performances, electronic sculptures, light and sound installations, digital textiles, and other oddities both digital and material. His project
Year of the Glitch
(2012), was a yearlong glitch-a-day project exploring various manifestations of glitches (intentional and unintentional / staged and found) produced by digital/ electronic systems. Related, Glitch Textiles, is a project which explores the intersection of digital art and textile design.
His work has been exhibited internationally at electronics arts festivals, museums, and galleries including: Turku Biennial; WRO Biennale; Transmediale; Denver Art Museum; The Photographer's Gallery London; The Camera Club of New York; Eyebeam; Gli.tc/H 2112; Festival De Arte Digital; Torrance Art Museum; and Optica Film Festival.
Stearns has participated in residencies at the Making Lab of the 4th APAP in Korea; Textielmuseum in Tilburg, Netherlands; Institute for Electronic Arts; Museums Quartier; STEIM, Amsterdam; Harvestworks, New York; and Free103Point9.
Siebren Versteeg (b. New Haven, CT, 1971) lives and works in Brooklyn, New York. He received a BFA from the School the Art Institute of Chicago and received his MFA from the University of Illinois, Chicago.
Versteeg employs algorithmic programs to access, extract and distill from a vast library of online imagery, which he presents in gallery as painterly abstractions on canvas or digital displays. Arriving at the intersection of the digital world and art history, his work addresses the ideas and perceptions of agency, choice and chance. This can be seen in New York Window (2008) in which Versteeg employs "computerized painting actions," a reference to Action Painting, a term synonymous with Abstract Expressionism and the New York School.
Solo exhibitions of his work include the Ulrich Museum of Art, Wichita, KS; the Wexner Center for the Arts, Columbus, OH; the Museum of Art at Rhode Island School of Design, Providence; the Art Institute of Boston; Bellwether Gallery, New York; Ten in One Gallery, New York; Rhona Hoffman Gallery, Chicago; and 1R Gallery, Chicago.
Versteeg was the recipient of an Illinois Arts Council, Fellowship, and a Skowhegan School of Painting and Sculpture Merit Fellowship.
Addie Wagenknecht (b. Portland, OR 1981) is an American artist living and working in Innsbruck, Austria. She holds a B.S. in Multimedia and Computer Science from University of Oregon, and a Masters from ITP, Tisch School of the Arts, NYU.
Wagenknecht's work explores the tension between expression and technology. Blending conceptually-driven painting, sculpture, and installation with the ethos of hacker culture, Wagenknecht constructs spaces between art object and lived experience.
A member of Free Art and Technology (F.A.T.) Lab, Wagenknecht was the recipient of a 2014 Warhol Foundation Grant, which she used to found Deep Lab, a collaborative group of researchers, artists, writers, engineers, and cultural producers interested in privacy, surveillance, code, art, social hacking, and anonymity. As an active leader in the open source hardware movement, she also co-founded NORTD Labs, an international research and development collaborative with Stefan Hechenberger, which produces open source projects that have been used and built by millions worldwide.
Wagenknecht's work has been exhibited internationally, including the Museum of Modern Art, New York; Phillips, New York; LEAP, Berlin; Haus der elektronischen Künste (HeK), Basel; MU, Eindhoven; the Istanbul Biennial, Turkey; and many festivals.. Past residencies have included Eyebeam Art + Technology Center, New York; Culture Lab at Newcastle University, UK; Hyperwerk Institute for PostIndustrial Design, Switzerland; and the Frank-Ratchye STUDIO for Creative Inquiry at Carnegie Mellon University. Wagenknecht is presently chair of the MIT Open Hardware Summit.
Kenny Wong (b. Hong Kong, 1987) received his B.A. from the School of Creative Media, City University of Hong Kong in 2011.
Wong uses visual patterns, motions, sound textures and computational kinetic sculptures to illuminate the delicate relationship between daily experiences and perceptual stimulations. In his dual kinetic light installations displace pivot_ (2014), the devices appear as flat digital screens from afar, but the actual physical layers within are revealed upon closer viewing. Visual and kinesthetic information is modulated, using electronics and mechanics, disrupting our perception of an absolute visual point of reference
or orientation.
His solo and collaborative works have been exhibited internationally at Ars Electronica Festival, Austria; WRO Media Art Biennale, Poland; Athens Video Art Festival, Greece; Phoenix Cinema and Art Centre, UK; LOOP Barcelona, Spain; FILE Festival, Brazil; 404 Festival, Argentina; ISEA Dubai, UAE; Seoul International NewMedia Festival, Korea; and several important exhibitions in Hong Kong. He was honored as one of the Golden 15 for the 3rd International Emerging Artist Award, Dubai; received the Award for Young Artist 2014, Media Arts, Hong Kong; and Bloomberg Digital Arts Initiative 2013, Hong Kong. Most recently, Wong was selected as a participant in the 2016 ISEA exhibition in Hong Kong and AUTOMATA 2016, the International Digital Arts Biennal in Montreal, Canada.
Wong is currently pursuing his MFA in Sculpture at Concordia University, Montreal, Canada, and actively collaborates as a multimedia designer, mechanical engineer/designer and art researcher.