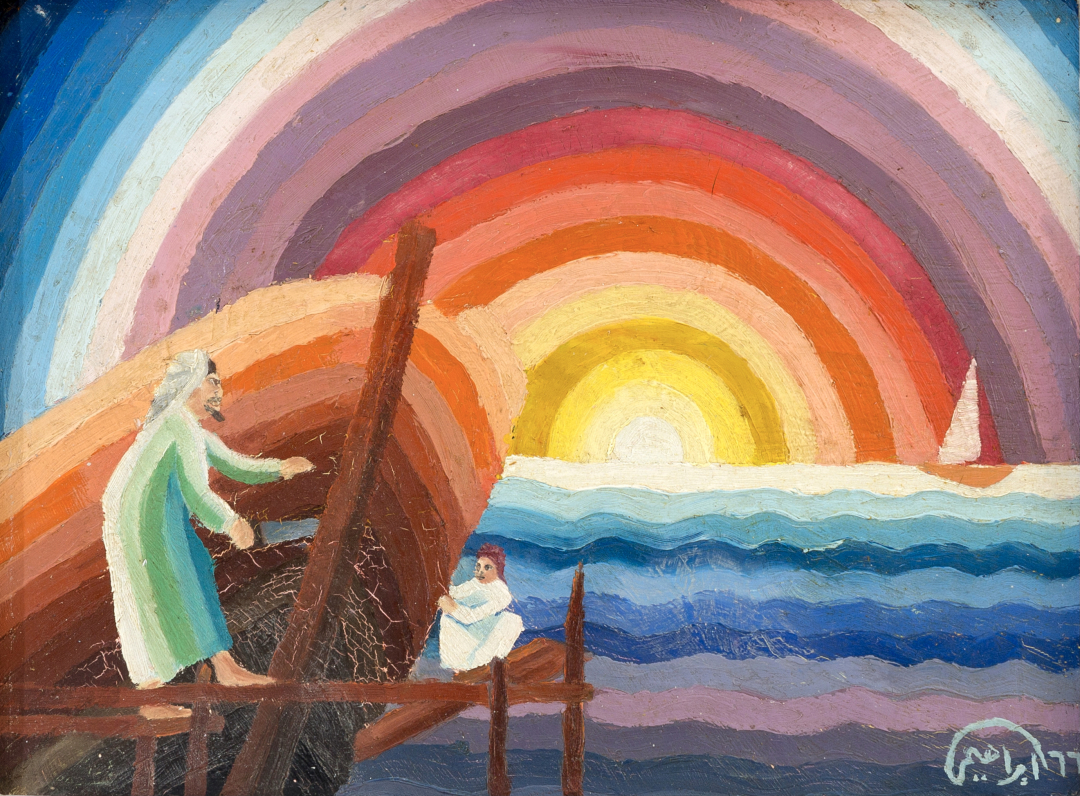 Khaleej Modern
Pioneers and Collectives in the Arabian Peninsula
Curated by Dr. Aisha Stoby
Summary

This exhibition is a landmark historical survey of twentieth century modern art movements across the Arabian Peninsula, collectively known in Arabic as the "Khaleej." Based on Stoby's PhD research, it traces the region's 'pre-boom era' of the twentieth century through 2007 and examines the evolution of visual art movements as the discovery of oil began to transform the region. It delves into the shifting understanding of public and private spaces and their relationship to national identity as expressed through art practices.

---

The artists in the exhibition:

Abdul Karim Al Bosta, Abdul Karim Al-Orrayed, Abdul Qader Al Rais, Abdulhalim Radwi, Abdullah Al Qassar, Abdullah Al Saadi, Abdullah Al Shaikh, Abdulrahman Alsoliman, Ahmed Qassim Al Sunni, Ali Mohamed Al Mahmeed, Anwar Sonya, Budoor Al Riyami, Ebtisam Abdulaziz, Hassan Meer, Hassan Sharif, Hussain Qassim Al Sunni, Ibrahim Ismail, Issa Saqer Al Khalaf, Khalid Albudoor, Khalifa Qattan, Mohamed Ahmed Ibrahim, Mohammed Ahmed Rasim, Mohammed Al Saleem, Mohammed Kazem, Mojib Al Dosari, Moosa Omar, Mounirah Mosly, Munira Al Kazi, Najat Makki, Nasser Al-Yousif, Nujoom Alghanem, Rashid Abdul Rahman Al Balushi, Rashid Al Oraifi, Safeya Binzagr, Sami Mohammed, Thuraya Al-Baqsami, Yousef Ahmad, and Yousef Khalil.

The lenders to the exhibition:

Abu Dhabi Music & Arts Foundation; Bahrain National Museum; Barjeel Art Foundation, Sharjah; son of Mohammed Ahmed Rasim; Estate of Hassan Sharif; Family Servais Collection; Hassan Meer; Gallery Isabelle van den Eynde; Lawrie Shabibi; Mahmood Nasser Al-Yousif; Mosly family; Qaswra Hafez; Reem Albudoor; Salwa S. AlQadi; Sharjah Art Foundation; Stal Gallery & Studio; Tawfiq Ahmed Al-Jarrah.

Lead Patrons:

Fairouz and Jean Paul Villain, Nisreen Bajis, Olivier Georges Mestelan

Read the essay

Below is an excerpt from the curator's introduction:

My research leading to Khaleej Modern grew out of an interest in the modern art histories of both my own country, Oman, and neighboring countries in the Arabian Peninsula. I have long found myself in a community of frustrated researchers faced with sparsity of scholarship, underrepresentation of the Arab world in modern art histories, and a further marginalization of the Gulf in regional art historical texts. Against this background, I set out to contribute to a more accurate and representative archive as well as scholarship, art first informally, and later on through doctoral studies at the School of Oriental and Africal Studies (SOAS) at the University of London.

The works brought together for this exhibition form, for the first time, a proposed mapping of the art movements that flourished during a transformative period of regional modernization starting as erlly as the 1940s. Ultimately, Khaleej Modern begins a conversation on modernism and visual modernity in the Gulf. It points to the volume of artwork and archival material in our diverse and abundant region that is yet to be brought to a more global audience.

On the occassion of Mojib Al Dosari's 1943 exhibition at Al Mubarakiya School in Kuwait, educator Rashid Al-Saif wrote a poem and recited it at the opening. In this poem, Al-Saif refers to the immense pressure of establishing new status-quos, and the vulnerability of how it must feel to be a "pioneer."

The artists referred to in Khaleej Modern as "pioneers" offered me key entry points to these histories. Revered throughout the Gulf, many of these pivotal figures, included in this exhibition, have transcended the role of artist to that of mentor, curator, teacher, gallerist, and founder. As they developed their practices, they also helped establish local creative infrastructures. One of these pioneers, Hassan Sharif, described this process of establishing such infrastructures and spaces for creative practice: "I didn't only make art, but I made my audiences too," he said. "I had to contextualize what I was doing." Many artists across the Gulf worked in this manner, laying the groundwork for the current cultural boom in the Gulf and the well-deserved recognition many of them receive today.