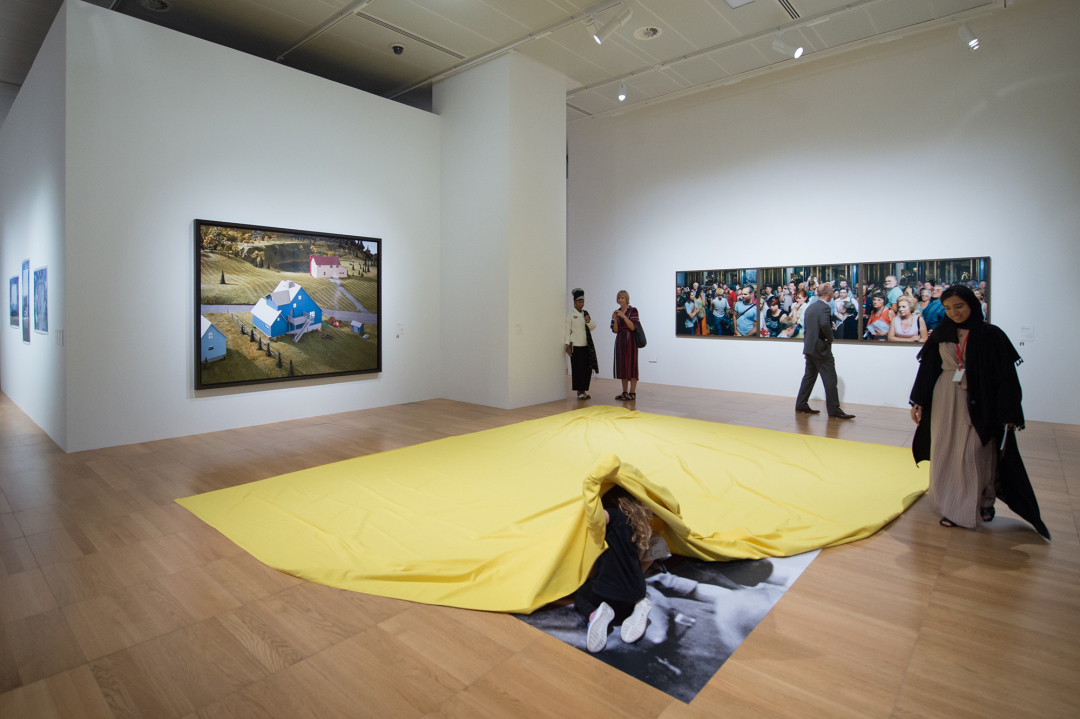 Ways of Seeing
Curated by Sam Bardaouil and Till Fellrath
Summary

With: Ghada Amer • Frédéric Borgella • James Casebere • David Claerbout • Salvador Dalí • Hans-Peter Feldmann • Andreas Gursky • Mona Hatoum • Paul and Marlene Kos, Alicja Kwade • Lateefa bint Maktoum • Gustav Metzger • Shana Moulton • Vik Muniz • Grayson Perry • Michelangelo Pistoletto • Fred Sandback • Markus Schinwald • Hassan Sharif • Cindy Sherman • Jojakim Cortis and Adrian Sonderegger • John Speed • Thomas Struth • Kim Tschang-Yeul • James Turrell • James Webb

About the Curators

Sam Bardaouil and Till Fellrath are Founders of Art Reoriented, a multidisciplinary curatorial platform launched in New York and Munich in 2009. They are curators of the Lyon Biennale in 2022, and Affiliate Curators at Gropius Bau in Berlin. Bardaouil and Fellrath are internationally recognized independent curators and award-winning authors known for their rigorous inter-temporal, trans-cultural, and cross-disciplinary approach. Their curatorial practice is rooted in global contemporary artistic practices, as well as in the field of modernist studies, and they have taught at various universities, including the London School of Economics and New York University. As an independent voice, Bardaouil and Fellrath have collaborated as a duo over the last ten years, engaging with a wide range of institutional models worldwide. Their exhibitions have been shown in institutions worldwide such as Centre Pompidou in Paris, Villa Empain in Brussels, Kunstsammlung K20 in Dusseldorf, Mathaf: Arab Museum of Modern Art in Doha, Moderna Museet in Stockholm, IVAM in Valencia, Reina Sofia in Madrid, Tate Liverpool, Gwangju and Busan Museums of Art in South Korea, Beirut Exhibition Centre, and ARTER in Istanbul. In 2016 they were part of the team of curatorial attachés of the 20th Biennale of Sydney. At the Venice Biennale, they were curators of the National Pavilions of Lebanon in 2013 and the United Arab Emirates in 2019.

Learn more about the curators and their work at: www.artreoriented.com

Read the essay

This exhibition marked the third iteration of the Ways of Seeing exhibition, curated by the Art Reoriented duo Sam Bardaouil and Till Fellrath. The exhibition rehearses a series of object-viewer positionings from trompe-l'œil to immersive installation to relational aesthetics. The curators present profoundly diverse narrative positions, considering, for example, how artwork can act on behalf of Nationalism, and highlighting how maps propose political narratives and thus personal experience. The first iteration, originated at Arter (Istanbul), was both wholly international, and rooted in Istanbul. The second, at Villa Empain, revised the exhibition to include Belgian historical narratives, including its history of colonization.

Along with the exhibition, a book of essays for the exhibition was republished by The NYU Abu Dhabi Art Gallery.

Below is an excerpt from the Director's introduction:

The very title "Ways of Seeing" embeds within it a premise, a cautionary note, a subliminal instruction: consider the way in which you are seeing. Now, re-consider it.

If there are different ways of seeing, what does that mean for the study of art? Or politics? Or empirical evidence and data? With this exhibition, we invite scholars, students and lay people from all fields to consider how they look at the world around them.

The title, of course, is best-known as that of John Berger's book and television mini-series from 1972. The arguments he set forth played a substantial role in a watershed decade during which the practice of European and American art history underwent a revolution vis-à-vis the notion of the art canon, part of a larger intellectual transformation that developed the area of cultural studies more generally. Berger's work fueled this growth, alongside Linda Nochlin, Edward Said, Laura Mulvey, and many others.

Now, almost half-a-century later, a contemporary curatorial team has given an art exhibition this title. Curating any exhibition is itself an act of suggesting, if not instructing, 'how to see.' Through selection of works, and placement in the exhibition hall, the curator initiates, reinforces, or challenges visual and narrative connections among objects and artworks. Merely the act of putting an object into a gallery changes its narrative (as Duchamp proposed with the urinal titled Fountain). To curate an exhibition on the topics of the ways in which we see is itself a kind of meta-curatorial act.

Click here to download the full book introduction and curators' essay.