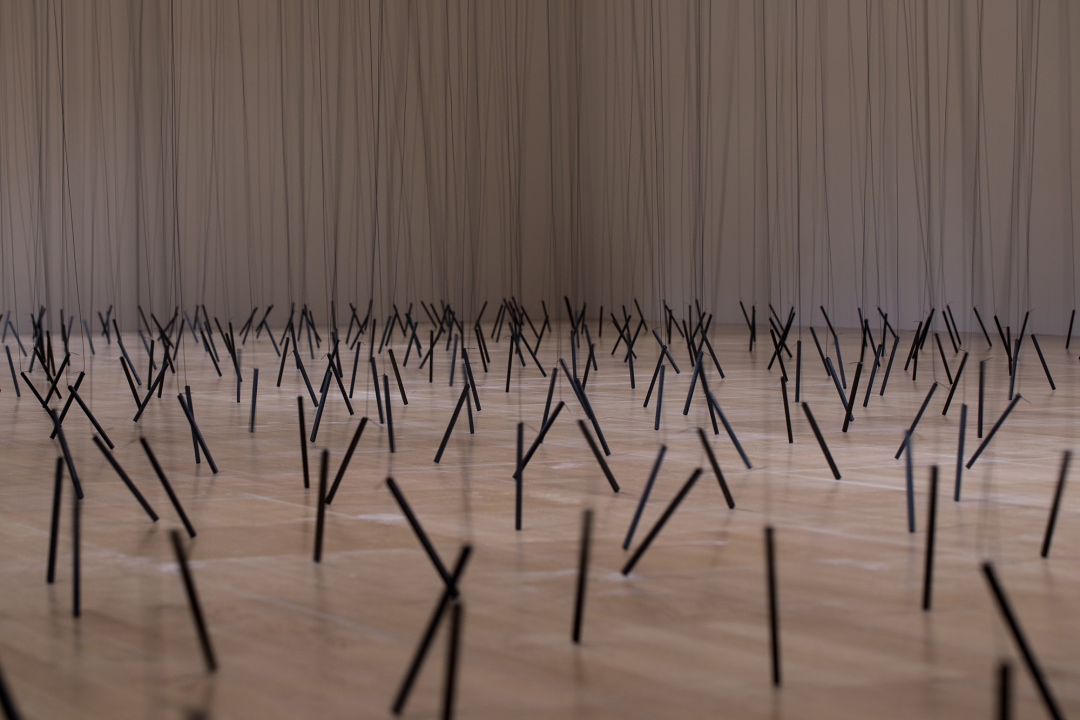 Summary

Zimoun constructs extraordinary, immersive audio-visual experiences using lo-fi technology and simple materials. This landmark survey marked his first presentation in the Gulf, accompanied by the publication of the first book-length monograph on the artist. Welcome to the exhibition archive page. Click "Read Essay" above to learn more about the exhibition.

Read the essay

"I explore simple systems which involve various complexities in sound and motion. Through primitive mechanical systems, I look to activate unspectacular and raw materials which then start to develop a complex behaviour. The sounds my installations produce are generated immediately through the activation of the materials themselves. In fact, I like to refer to my work as 'Primitive Complexities.'"

Curated by Maya Allison, Executive Director of The Art Gallery at NYU Abu Dhabi, this landmark survey marked the first time the artist exhibited his work in the Gulf. The show included a major new commission: an expansive, room-sized installation, titled 510 Prepared DC-Motors, 2142 m Rope, Wooden Sticks 20 cm.

Together with the exhibition, The NYUAD Art Gallery published the first monograph on the artist, a book that includes essays from international curators, and writers, exploring Zimoun's work and art-historical context.

Excerpt from the book's introduction:

Zimoun's artwork is sculpture, music, composition, soundscape, and installation; it is minimalist, conceptual, expressive, technical, natural, open, rigid, and chaotic.

It is not new media, not glitch, not interactive, not even really kinetic art (he prefers the term "mechanized"), and it is not chance operations, though in dialogue with all of these. Stripped of referents, beyond the prosaic materials from which each installation is made, his work conjures myriad associations while evading categorization.

Nor does the title of a given artwork offer an interpretive door: each work is the sum of its parts. Every single work title begins with a number (as in 317 Prepared DC-Motors, Paper Bags, Shipping Container), as must an exhibition title. For his exhibition at the Art Gallery of New York University Abu Dhabi (the "NYUAD Art Gallery"), the exhibition title had to be limited to Zimoun because to further title it would require confirmation of the exact number of each kind of component in the entire show, and the title went to press before those details were locked in.

Without a cue from the artwork's title, the viewer is left to make their own interpretations, and must rely solely on the direct experience of their senses. Here Zimoun excels: at every turn he extends work as far into our peripheral vision as possible, filling our visual field with grid upon grid of minute variations on repeat. As with the visual field, the aural field is filled with texture: every element makes sound, repeated in row upon row upon row of activity.

The essays in this book each take different approaches to the question of how to frame, contextualize, and discuss Zimoun's artwork, beginning with art historical framing, proceeding through music and soundscape, and finally concluding with an interview with the artist himself. There, Zimoun offers: "I like to think of my works as audible buildings that can be entered and explored as much with your ears as with your eyes." When the visitor explores these "audible buildings," they traverse an architectural/sonic composition. In the world of audio compositions, different sections of the music are referred to as "movements" of sound. In the case of Zimoun, this can be understood literally, as the body moves through different sound (and visual) spaces.

The exhibition at the

NYUAD

Art Gallery comprises five movements: five physical spaces through which the viewer's movements create the sequence and duration of the overall composition. Move forward, move back, large room, small room: one can speed up and slow down and reverse one's experience of this
five-part composition.
Zimoun lives and works in Bern, Switzerland.
Read more
His work has been presented internationally, highlights of which include exhibitions at the Hayward Gallery London (forthcoming); Museum of Contemporary Art MAC Santiago de Chile; Nam June Paik Art Museum Seoul; Kuandu Museum Taipei; Art Museum Reina Sofia Madrid; Ringling Museum of Art Florida; Mumbai City Museum; National Art Museum Beijing; LAC Museum Lugano; Seoul Museum of Art; Museum MIS São Paulo; Muxin Art Museum Wuzhen; Kunsthalle Bern; Taipei Fine Arts Museum; Le Centquatre Paris; Museum of Contemporary Art Busan; Museum of Fine Arts MBAL; and Kunstmuseum Bern; among others. Learn more about Zimoun's work here.